Simon Property backs away from Capital Shopping Centres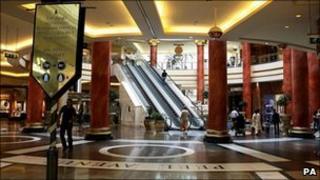 US firm Simon Property has said that it has no intention of launching a full takeover bid for Lakeside-owner Capital Shopping Centres (CSC).
It said CSC, which owns a number of shopping centres in the UK, had refused to share due diligence information.
Simon Property, which owns a 5.6% stake in CSC, is opposed to CSC's £1.6bn plan to buy Manchester's Trafford Centre.
The group made an indicative offer for CSC's entire share capital last month, subject to satisfactory due diligence.
"Despite numerous overtures from Simon and in full knowledge that Simon, given this due diligence precondition, is not able to announce a firm offer without it, the CSC board has refused to share any due diligence information with Simon," a statement from the US group said.
It said the terms for the proposed deal for the Trafford Centre were "deeply unattractive" for CSC shareholders, with the "purchase price too high".
It therefore "urged" its fellow shareholders to vote against the deal later this month.