Japan in pledge to buy eurozone bonds issued by EFSF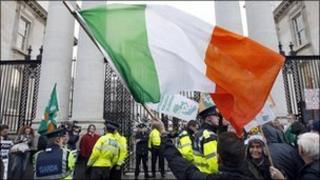 Japan is to buy bonds from a eurozone rescue fund to help pay for the Irish Republic's bail-out.
Finance minister Yoshihiko Noda said Japan should help to boost confidence in the bonds issued by the European Financial Stability Facility (EFSF).
It comes a day after Portuguese bond yields hit a new high.
Japan joins China, which has already said it is willing to help European economies exposed to a debt, including Spain, Greece and Portugal.
"It is appropriate for Japan, as a major economy, to buy some of the EFSF bonds" to help boost confidence in Europe's efforts, Mr Noda said.
"We're thinking about buying more than 20% of the amount" of EFSF securities to be issued in the initial round, he said.
Foreign reserves
EU members are planning a bond issuance programme of up to 440bn euros ($569bn; £366bn).
The fund is designed to shore up the Irish Republic and other indebted countries.
The first stage of the programme will issue bonds worth about 3bn to 5bn euros at the end of the month.
Japan is to use euros in its foreign reserves to buy the bonds, indicating there will not be large fresh buying of the euros.
The Nikkei business daily said Tokyo would buy about 100bn yen of bonds, (930m euros).
Meanwhile, analysts believe that while Europe could support Portugal as well as the Irish Republic, a bail-out of Spain would stretch the existing fund.
Greece was the first eurozone nation to take a bail-out when a three-year 110bn-euro deal was agreed last year.
The Irish Republic's 85bn-euro bail-out package was agreed last month.