US economy growing 'moderately', says Federal Reserve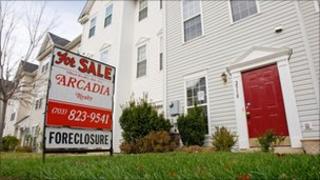 The US economy continued to grow moderately in December, but the weak housing market was still acting as a brake, says the Federal Reserve.
In its latest Beige Book report, the US central bank said the manufacturing sector continued to enjoy the biggest upturn, while retailers saw a rise in sales over Christmas.
The Fed said the housing sector remained subdued across the US.
The data showed the US economy grew by 2.6% between July and September.
However, this annualised level is too low to tackle the country's continuing high level of unemployment.
The most recent figures showed that the US jobless rate totalled 9.4% in December.
'Slow recovery'
The Fed is now continuing to buy $600bn (£381bn) of bonds to help stimulate the economy.
Meanwhile, interest rates remain at between 0% and 0.25%.
Federal Reserve Chairman Ben Bernanke warned last week that the US economy recovery would continue to be slow.
The central bank's Federal Open Market Committee next meets to discuss interest rates on 25-26 January.
It was a major downturn in the US housing market that sparked the global financial crisis in 2007, as it revealed substantial bad US mortgage debt.