Eurotunnel revenues boosted by shuttle demand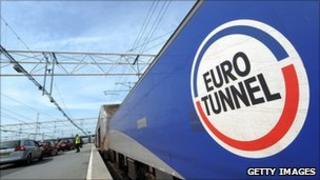 Channel Tunnel operator Eurotunnel has said it saw higher revenues in 2010, as demand from passengers lifted traffic on its shuttle services.
Car shuttle traffic was up 11% on 2009, while truck and coach traffic was also up, but rail freight numbers fell.
Eurotunnel also generates income by charging other freight and passenger services, such as Eurostar, to use the tunnel.
Across the company, revenues were up 26% at 736.6m euros ($983m; £617m).
The firm also said there was an overall increase of 3% in passengers travelling through the tunnel.
"Despite the very difficult economic situation, Eurotunnel's activities have shown strong growth," said chief executive Jacques Gounon.
"Regaining our market share across the Channel has been continuous and we have, at the same time, successfully integrated the new rail freight businesses.
"The group is ready to continue in the same vein."
Eurotunnel's fourth-quarter revenues were up 29% as truck shuttle traffic soared by 35%.
"The extreme bad weather in December 2010 has had a significant impact on the roads leading to and from the terminals and speed limits on Eurostar trains affected the volumes throughout the month, which could therefore have been even better," Eurotunnel said.