The spying game: Firms losing billions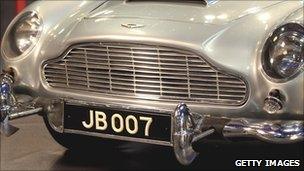 Networks of foreign spies are regularly uncovered and Wikileaks continues to release embarrassing documents.
But it is not just governments that are targeted by spies. Businesses are, too, and commercial espionage is as rampant as it ever was.
"It has been happening since the dawn of time," says Crispin Sturrock of the counter-surveillance company White Rock Global.
"Whenever there is any value in anything and somebody else wants to know what it is, they find a way to come and take it," he says.
It happens on quite a large scale and the problem is increasing.
"Statistics produced in the US show that losses run into billions of dollars."
When there is a leak of information, or information is stolen, it rarely reaches the press because it needs to be contained.
"There can be a share price involved and the City is a big pendulum which swings between greed and fear, and we don't want fear sneaking in and reducing someone's share price," says Mr Sturrock.
The demand for information mostly comes from other companies, and it is more prevalent in certain parts of the world.
"We have seen a dramatic increase from countries such as China and Russia," he notes.
Information is sought in many sectors, especially hi-tech start ups, banking, the financial sector and pharmaceuticals.
"They always have valuable information which third parties would want to appropriate."
Sometimes it is necessary to know what is really going on within a company, perhaps to assist in deciding whether or not to go ahead with an acquisition.
But at what point does that legitimate research become illegitimate espionage?
"When you cross the ethical line to find out exactly what is going on, for example, if you bug strategic meetings, boardrooms or external events," Mr Sturrock maintains.
He points out that many companies spend fortunes on firewalls to prevent their IT systems getting hacked, but they spend very little money in protecting a conversation.
"Someone can access a conversation and record it on a mobile phone or a recorder or a bugging system," he says.
"That conversation could be held in the reception of a hotel or in a restaurant, so it is very easy to take a table nearby and just eavesdrop, which is the original way we gathered information - just using our ears."
New technology has made spying on competitors cheaper and easier.
Behind the mundane facade of Spycatcher in London, a shop which sells surveillance equipment, the customers are mostly speaking Middle East and Eastern European languages.
"The majority of our customers are corporate customers wanting to know who is leaking information," says Julia Wing.
"They want to know who they can trust in the workplace, especially in the current financial climate when they need to protect their investment."
Other customers may want to ensure that a child or an elderly person is being treated well.
There was one instance where Spycatcher inserted a listening device into a cuddly toy, so it could be left in a nursery and was only activated when there was a sound in the room.
"You cannot go around accusing people outright," says Mrs Wing, "So you discreetly monitor them for a little while, just to get peace of mind.
On some occasions, people simply need to keep a record of a business conversation, as proof of what was said.
Bugging a room is the stuff of legend in old black-and-white movies, although in reality, it is still the most popular way of surreptitiously obtaining information.
There is no law in the UK which says a room cannot be bugged, but there are stringent laws relating to what can and cannot be used.
"In the UK, we cannot have CS spray because we cannot harm attackers," she notes, "Whereas in many US states, you can walk in and buy a gun, yet cannot buy a bug or a camera with audio."
Anything using a frequency such as UHF or VHF needs a license according to the Wireless and Telegraphy Act.
"Our UHF listening devices are strictly for customers who live outside the EU and they have to sign a declaration," Mrs King explains.
The most common form of listening devices utilises a Sim card and GSM frequencies, as used in ordinary mobile telephones.
"You can make a call to that item and listen to a room conversation from the other side of the world. It is no different to making a phone call and then forgetting to hang up to end the call," she says.
The listening devices only operate one way. All other functions of the phone have been disabled, so they cannot be used to detonate an explosive device.
Because the modules are so small, they can be placed in table lamps, clocks, picture frames, ties and pens, or they can be custom made for whatever the client needs.
"As long as there is space for a Sim card and module and a microphone, we can make a listening device."
Similar technology is used for visual surveillance in digital quality. Even a popular fizzy drink might hide a camera within a bubble printed on the side of a can or in a pair of spectacles, so you can record everything simply by turning your head.
The company also supplies counter-surveillance in the form of bug detectors, recorder blockers and cellular jammers, and everything on sale is a legitimate item which can be used somewhere in the world.
Related Internet Links
The BBC is not responsible for the content of external sites.