Telefonica and China Unicom strengthen ties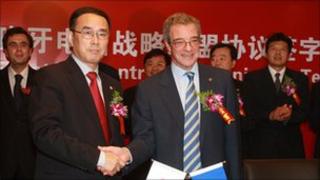 Spanish telecoms firm Telefonica and Chinese operator China Unicom have agreed to expand their alliance, with both investing an additional $500m (£312m; 367m euros) in the other.
Following the new investments, Telefonica will hold a 9.7% stake in its Chinese partner, while China Unicom will own 1.4% of the Spanish firm.
Under the agreement, China Unicom could get a seat on Telefonica's board.
In 2009, the two partners agreed a tie-up and invested $1bn in each other.
International expansion
Telefonica said it should complete its purchase of China Unicom shares within the next nine months.
The two parties said they would co-operate further in a number of key areas, including mobile services platforms, procurement and wider technologies.
"We are very pleased to further strengthen our relationship with China Unicom," said Telefonica chairman Cesar Alierta.
"With a combined customer base of 590 million, approximately 10% of the world's population, this new step in our strategic alliance reinforces our leadership position."
Telefonica said it would propose at its next shareholder meeting that a representative of China Unicom would join its board.
Mr Alierta already holds a seat on China Unicom's board.
China Unicom's chairman Chang Xiaobing said the "enhancement of the strategic alliance will promote the competitive advantages of both parties and maximise shareholders' returns".
Telefonica is looking to expand internationally to enter higher-growth markets.
And China, with its booming population and relatively low penetration of mobile phones compared with western, developed economies, is one of the fastest growing markets in the world.
The company is also looking to expand into Latin America - last year it agreed a deal to buy Portugal Telecom's stake in Brazil's Vivo, the country's largest mobile phone company.