Sri Lanka eyes tourism boom but challenges lie ahead
By Saroj Pathirana
BBC Sinhala Service, Colombo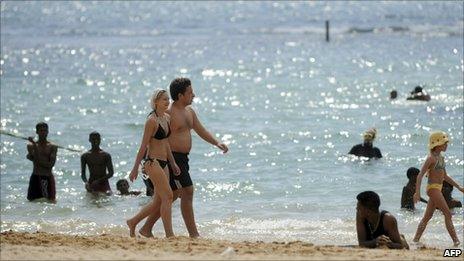 The Sri Lankan government says it hopes its hard-won peace will give a much-needed boost to the tourism sector in the Indian Ocean island nation.
Sri Lanka expects a big influx of tourists in the next few years, after the three-decade long war against the Tamil Tigers ended with the defeat of the separatist rebels in May 2009.
Last month, Sri Lanka Tourism (SLT) celebrated the arrival of the country's 600,000th foreign tourist. The SLT expects 700,000 tourists in 2011 and arrivals are projected to hit 2.5 million a year by 2016.
"Peace is the biggest investment for the development of tourism in any country," says the country's Minister of Economic Development, Basil Rajapaksa.
"There won't be tourists if there is no peace."
He adds, however, that the government is currently trying to minimise its direct intervention, apart from playing a facilitator role, allowing the industry to develop itself.
Sri Lanka boasts one of the best beaches in the world, wildlife sanctuaries, unique ecosystems and heritage sites from ancient cities to colonial forts, as well as a diverse climate within a small radius.
"The nature has blessed us with beautiful beaches, waterfalls, exotic wildlife and historic places. We as a nation have a reputation for our hospitality," says Mr Rajapaksa, the younger brother of President Mahinda Rajapaksa.
India and UK are currently the biggest source markets for the Sri Lankan tourism industry. The UK comes a close second in terms of arrival numbers, but authorities say tourists from the UK stay longer and the yield is higher as a result.
But some industry figures say the recent increase in arrivals from abroad has to be seen in a proper context. They say a considerable number of Sri Lankan expatriates with British citizenship are among those counted as tourists.
Some accuse the authorities of giving preferential treatment to Westerners, while ignoring those coming from Russia and Eastern Europe.
At the height of the conflict, visitor numbers from the West dropped sharply, so Sri Lanka was heavily reliant on a regular influx of tourists from Eastern Europe.
But during the recent peak, many Russian-speaking tourists were politely refused hotel rooms as a result of the influx of Western tourists. It has also resulted in a steep increase in the room tariffs.
Russian tourist guides say they are not getting regular jobs and receiving less income as a result.
"Even during the peak of the conflict I used to get approximately 200,000 Sri Lankan rupees ($1,800) a month," says Rodney Saram, a Russian guide who has been in the industry for many years.
"But it has now reduced to about 50,000 rupees during the recent tourism peak," he said.
Many mega-projects, including new Tourism Promotion Zones in Kalpitiya, in north western Sri Lanka, are under way to welcome new arrivals.
In Kalpitiya, a new zone is being developed with facilities for adventure tourism, as well as whale and dolphin-watching and an underwater visitor centre.
A similar zone will be developed around Bandaranaike International Airport in Colombo to attract short-stay visitors, according to Mr Rajapaksa.
"Dubai airport, for example, gets a huge income from transit passengers. I think Sri Lanka is also situated in a similar important transit zone in Asia. So we need to get more airlines [flying] to Colombo," he said.
But industry figures say they are cautiously optimistic over the projected "boom" in the industry.
They are apprehensive about the over-emphasis on a few selected mega-projects at the cost of individual initiatives.
They say it is difficult for small businesses involved in the tourism sector to get loans, for example, to expand lodging facilities.
Mr Rajapaksa disagrees. "Our main aim is to support small businesses," he says.
"We are now promoting many boutique hotels. We are also encouraging people to open up their homes and convert them to bed-and-breakfast type of accommodations."
But the industry wants more from the government.
"The authorities could focus on issuing long-term visas to pensioners from the West, for example, to help the industry," says Ajith Nanayakkara, who co-owns the Time N Tide Beach Resort in Hikkaduwa, in southern Sri Lanka.
He says that Sri Lanka could even develop special private healthcare to earn more foreign revenue from health tourists.
The government plans to introduce a new visa scheme, replacing the current hassle-free on-arrival visa for 78 countries. This has set off alarm bells.
But the minister says the new measure is aimed at helping tourists.
"We have changed the on-arrival visa to an at-home visa," he says. "Now anybody can apply for a visa from home and they will receive it within 24 to 72 hours."
Tourists intending to visit Sri Lanka can apply online, supplying details such as name, passport number and date of birth, he says.
"There have been instances of visas being rejected at the airport, but now you get the response while you are at home, and there will be special facilities at the airport for those who arrive with the online visa."
Both the authorities and industry figures agree that there has indeed been a huge increase in interest in tourism since the end of the armed conflict.
In Colombo, the capital's popular restaurants are packed with locals as well as foreign tourists. While most Sri Lankans go to bed early, Colombo seems to be a city that never sleeps.
The end of the conflict has removed the element of fear for ordinary people.
Olwyn Weerasekara, the entrepreneur of Colombo's popular Beach Wadiya seafood restaurant that has been visited by famous Britons such as the Princess Royal and Richard Branson, says he is enjoying the dividends of peace.
"I managed to make money even during the conflict and I was approached by many to expand this business," he says.
"But I have no desire to own a business empire."
Related Internet Links
The BBC is not responsible for the content of external sites.