Equitable Life: More compensation details announced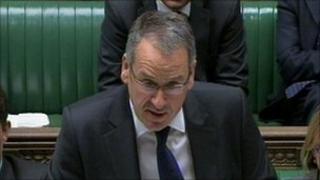 More details of compensation for Equitable Life customers who lost money when the firm came close to collapse 10 years ago have been announced.
About 945,000 policyholders will share £775m, repaying them 22% of their "relative losses".
Last year, the government decided that potentially 1.5 million savers should share compensation of £1.5bn.
Of that, it has already been decided that £620m will be paid to 37,000 with-profits annuitants.
About 100,000 policyholders will receive nothing as the pro-rata compensation payments due to them are less than £10 each, and are thus less than the administrative cost of making the payments.
There are a further 435,000 policyholders who, it has now been decided, are not eligible for any compensation at all because the government has judged that they have not suffered any losses.
'Fair and transparent'
The latest details have been recommended to the government by the Independent Commission on Equitable Life Payments, which the government established last July.
The Financial Secretary to the Treasury, Mark Hoban, said he would accept the recommendations.
"We have always been committed to making fair and transparent payments to Equitable Life policyholders, through an independently designed payment scheme, for their relative loss as a result of regulatory failure," he said.
The commission said that its recommendations covered 460,000 holders of individual policies and 586,000 holders of group pension policies.
They are estimated to have suffered "relative losses" of nearly £3.5bn.
The overall loss figure for all Equitable savers has now fallen from £4.3bn to £4.1bn.
The Treasury said this was due to improvements to the methodology used to calculate the losses.
Oldest first
Policyholders have been told they do not need to do anything yet to receive the payments.
A practical scheme for making the payments, including a timetable, is being devised.
It will be published later this spring and the government has already said it intends to start making payments in the middle of this year.
It has been recommended that the payments be spread over three years and it has been agreed that the oldest policyholders will be paid first.
"They are least able to wait for payment and are also least likely to be in a position to mitigate the effects of a delay," the Treasury explained.
Next in priority will come the inheritors of dead policyholders, and the inheritors of those who die within the next three years if they have not yet received their compensation.
"This prevents delays to beneficiaries receiving payments when they might be at their most vulnerable and reflects the difficulties that could arise from prolonging payments owed to the estates of deceased policyholders," the Treasury said.