Kodak reveals poor fourth-quarter results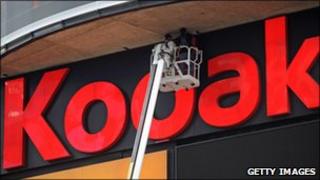 Photography giant Kodak has revealed disappointing fourth-quarter results after weak sales of digital cameras and lower revenues from its licensing arm.
Kodak's fourth-quarter revenue was down 25% to $1.93bn (£1.21bn), below analysts expectations of $2.11bn.
Profits fell by 95% to $22m, down from $443m in the same quarter a year earlier.
Profits had previously been boosted by settlements with firms said to have infringed Kodak's technology patents.
Poor sales of traditional photographic film have hit the company hard.
In recent years, Kodak has tried to offset its losses by licensing digital imaging technology to companies such as mobile phone makers and rival camera manufacturers.