Setting the standard: The vodka billionaire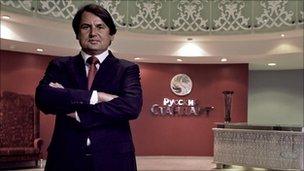 Roustam Tariko is a seriously wealthy man.
He was listed at number 721 with an estimated fortune of $1.4bn (£860m) in Forbes magazine's World's Richest People ranking of 2010.
Unlike the majority of his fellow-Russians in the billionaire's club, however, Mr Tariko created his empire from scratch - rather than obtaining his wealth during the privatisation of state-owned industrial assets during the 1990s.
"I started like many young Russian people in the beginning of perestroika when it seemed that everything was possible," he says.
The literal meaning of perestroika is restructuring. Under the then Soviet leader Mikhail Gorbachev, there were drastic changes in the political and economic systems that had been rigidly enforced under communism.
"I had dreams about working for a big foreign company," Mr Tariko recalls.
"I spoke English pretty well so I contacted some travel agencies and offered my services to supply them with taxis, guides and so on."
It was an ideal form of business for people who had enthusiasm to work, but who lacked any capital infrastructure.
"I was making just one plus one plus one dollar at a time, and eventually I arrived where I am today," he says, proud that he did not earn his money through privatisation.
Mr Tariko graduated from the Moscow Institute for Railway Engineering in 1989, but from a young age he had envisaged a defined strategy.
"First I wanted to work in the consumer market, second I really wanted to work with brands, third I wanted to work in a very precise direction - with foreign companies," he says.
In the late 1980s he began importing Ferrero Rocher chocolates, which until then had only been available in hard currency stores that were closed to the average Russian consumer.
His success in selling Italian chocolates enabled him to obtain an exclusive contract to import the alcoholic drink Martini.
"Up until that time, Russians only knew cheap sparkling wine, which was called Soviet champagne, and vodka," Mr Tariko says.
"Russians really needed a product that would be not as strong as vodka and not as feminine as cheap sparkling wine, so Martini was a good solution."
Johnny Walker, Baileys and Bacardi were added to his portfolio and his company became the premium supplier of well known brands.
Mr Tariko maintains that 60-70% of all well known premium brands were brought to Russia through his endeavours.
Mr Tariko observed that although Russians were renowned for drinking vodka, there was no premium brand on the market despite there being hundreds, if not thousands, of vodka brands.
He says there were very few people who really cared about the quality, about the taste, about the chemical structure.
"Because it is such a profitable market, many people launched into it," he says.
"They all tried to look nice, but they had no infrastructure to produce good vodka."
He maintains that even well known brands were outsourcing to other people so they had no idea about the quality of their product.
"Those brands were owned by people who were not in this industry before," he says.
"They were in some private equity fund or something like that."
He believed that having a premium brand vodka was a very logical thing to be developed and launched, alongside his already existing brand portfolio.
Mr Tariko's Standard Russian vodka became an overnight success and its advertising campaign states that is it "vodka as it should be".
"I made a fortune selling vodka to the Russians and now I am making a fortune selling it to the British," he says.
"The UK is my biggest foreign market."
Mr Tariko used the same approach that he had employed for his vodka company to get into retail banking.
"I focussed on innovation, on high quality service, and on providing what ordinary Russians really needed," he says.
The result was the Russian Standard Bank, which has become one of the market leaders in consumer finance and lending.
In total, his companies employs more than 25,000 people, but he is in no hurry to expand into other ventures.
"I am happy with my existing ones," he says. "It is a lot of responsibility moving them forward."
Not many people have the opportunity to build a global brand, he says, but that is what he has done.
"I have one of the best vodka brands in the world and one of the biggest retail banks in Russia," he says.
"If I just maintain what I have and grow it, that will already be enough to be proud of myself."
Although Mr Tariko has no immediate intention of starting a new company, he still wants his current businesses to grow.
In January he flew to Switzerland to attend the World Economic Forum in Davos because "it is interesting to see what is going on in the world".
He believes that when people are busy going about their business, it is good to step out and to look at what is going on around them.
"It is also good to meet people because one day you could maybe meet someone who you might employ one day to do some business for you," he says.
Mr Tariko is proudly patriotic and maintains that even foreigners can make a significant amount of money in Russia.
"Lots of businesses built in the early 1990s were not very transparent, not only by Russians, but also by foreigners," he says.
"So all these businesses were very exposed to tax, to police and to other risks."
He believes that if businesses come with something to propose to Russian citizens or the Russian corporate market, and do it in an appropriate way, knowing the legal environment and the preferences of the market, they should be able to make a success.
With the success that Mr Tariko has achieved, it is difficult to argue with him.
Related Internet Links
The BBC is not responsible for the content of external sites.