Asda told to change adverts by ASA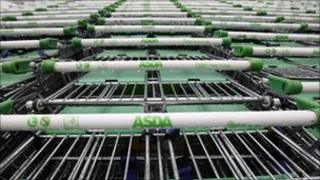 Asda adverts promoting price competition against other supermarkets must be changed, the advertising watchdog has ruled.
The adverts promised to refund customers the difference during their next shop if they found groceries cheaper at the other major stores.
But Morrisons and Tesco complained to the Advertising Standards Authority (ASA) that there were significant exclusions from the price comparison.
Asda argued the comparison was robust.
Cheaper?
Tesco and Morrisons complained to the ASA that the adverts were misleading as they implied that Asda was cheaper than the two supermarkets and Sainsbury's.
Asda disagreed, arguing that the adverts made it clear that the offer only applied to comparable grocery products.
The ASA upheld, or partly upheld, four of the nine complaints against Asda. The watchdog said that Asda did not make it clear enough that the price guarantee did not apply to non-grocery products, such as books and football-related items that appeared prominently in the adverts.
It ruled that the adverts must not appear again in their current form.
Competition
The complaints mark the latest salvo in the battle between the big supermarkets over prices.
Ronan Hagerty, news editor of the Grocer magazine, described the current row as "very bitter".
But he added that the current competition over prices was unsustainable, owing to rising food and fuel costs.
"They will keep it as competitive as possible and that is the good news for the consumer," he told BBC Radio 5 live.
"But there is not much slack in the system."
Slice of the market
Figures published earlier in the week showed that discount stores had begun to grow their market share in the supermarket sector recently, as families looked to save money.
The latest data from Kantar Worldpanel showed that Aldi increased its market share to 3.1% from 2.9%, while rival Lidl rose from 2.2% to 2.4%, in the 12 weeks to 23 January.
Among the big four supermarket chains, Sainsbury's saw its share of the market rise from 16.3% to 16.6%. This pushed it closer to Asda, which remained in second place with a share of 16.9%.
Market leader Tesco maintained its share, at 30.5%, the figures showed. Morrisons' share fell from 12.5% to 12.4%.