Mortgage lenders ease loan restrictions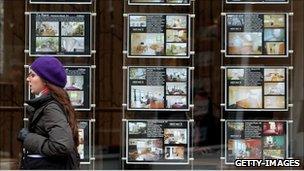 The proportion of mortgage deals needing more than a 25% deposit has fallen to a two-year low.
Moneyfacts says only 46% of mortgages currently on offer now ask for a deposit of that size.
The figures indicate that some lenders may be relaxing their strict mortgage rationing of the past two years.
However lenders have warned that they still face severe restrictions on their ability to lend to home buyers.
At the beginning of this month the percentage of new mortgage deals that demanded at least a 25% down payment fell below 50% for the first time in exactly two years.
However Michelle Slade of Moneyfacts pointed out that the size of a deposit is no longer the only method which lenders use to allocate mortgage funds.
"The availability of mortgages continues to improve and encouragingly its those for borrowers with a smaller deposit that are seeing the biggest increase in numbers," she said.
"However, just because lenders have increased the number of deals available, it doesn't mean that more mortgages are being approved.
"In fact latest figures from the Bank of England show another drop in the number of approvals [in December 2010]," she added.
The Council of Mortgage Lenders (CML) pointed out that UK banks and other mortgage lenders still had to repay £230bn of emergency state funding advanced to them by the Treasury and the Bank of England during the banking crisis of 2008 and 2009.
Along with having to repay loans to commercial lenders, this means there is little prospect of making more money available to prospective borrowers.
"The shortage of mortgage funding has left the UK with a dysfunctional market, with restricted choice and competition, particularly for higher-risk customers," said the Council of Mortgage Lenders (CML).
Separate research from Lloyds bank suggests that falling house prices will continue to choke activity in the market.
The bank says nearly a fifth of first-time owners did not have enough equity in their properties to move.
Research among its own mortgage customers by Lloyds, which owns the Halifax mortgage lender, found that 9% of so-called "second steppers" - those who want to sell their first home and move up the property ladder - are unable to do so because house prices have fallen since they first bought.
The bank estimates that 9% of these second steppers are in negative equity, while a further 9% have less than 10% equity in their homes, hindering their ability to borrow a larger mortgage and move to a bigger home.
When Lloyds quizzed a sample of 500 of its borrowers who had bought their first home in the past five years, only 13% said they would cut their asking price if they could not sell for the amount they were currently asking.
"Without movement from second steppers, movement on the ladder comes to a standstill," said Lloyds.
"For many, a necessary move to enable them to start a family or re-locate with work is held back by an erosion of equity and a widening gap between the cost of a first-time buyer and second step property," it added.
Related Internet Links
The BBC is not responsible for the content of external sites.