Panasonic profits hit by poor TV sales and strong yen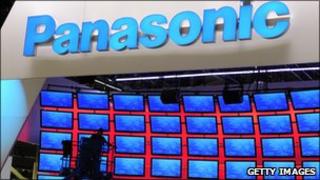 Japanese electronics giant Panasonic has announced disappointing third-quarter results with profits hit by price competition in its television business and the strong yen.
The company announced a net income of 40bn yen ($491m; £303m), up from 32.3bn yen in the same quarter a year ago.
Although the profits were up the results were below analysts' forecasts.
Panasonic has retained its full-year forecast of 85bn yen net profit for the current financial year.
"From October onwards, we faced substantial price falls for TV sets all over the world, with competition from Samsung and LG," said Panasonic managing director Makoto Uenoyama.
Panasonic is the world's fourth-largest television manufacturer after Samsung Electronics, LG Electronics and Sony Corp.