Q&A: Holiday protection and you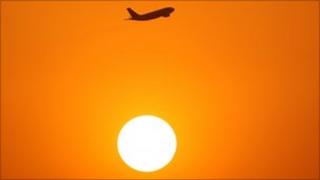 Another tour operator has gone into administration, at a time when the government is consulting on strengthening the protection available to holidaymakers.
Holidays 4 UK, which also traded as Aegean Flights, had 12,800 people on holiday in Turkey. They should be flown home at the end of their holidays without any extra expense.
It also had 20,000 forward bookings, but most people who had made them should get their money back.
Also trading as Holidays 4U, the company flew from a number of UK airports, including Belfast, Cardiff, Bristol, Gatwick, Edinburgh and Glasgow.
Meanwhile, the government is looking at the rules regarding holiday refunds. People who buy various elements of a holiday online within two successive days could be protected. However, there are exceptions.
What happens at the moment?
If a holiday company goes bust, there are often thousands of people stranded overseas and even more who have already paid for their holiday they haven't yet taken.
For example, when Greece and Turkey specialist Goldtrail went under in July last year, some 50,000 customers were affected including 16,000 stranded abroad.
Now, Brighton-based Holidays 4 UK has collapsed with more than 12,000 people abroad. It sold packages and flights to Turkey.
The Air Travel Organisers' Licensing (Atol) scheme means that customers who have booked package deals in such a case are flown home without incurring extra expense.
Those who have not already left for their holiday are refunded.
So what is the problem?
The growth of internet booking means that the way we organise our holidays has changed.
Only those who have traditional package deals, which many people used to go into a travel agent to book in one go, are covered by the current rules.
A number of online businesses may make it seem like you are booking a package with them, but legally that is not the case. As a result, people could lose money, or their whole holiday, if the company goes bust.
In the meantime, the business does not have to pay into a fund that pays for the Atol protection.
How might this change?
Here is an example: You sit down at your computer, go to a travel company's website and spot a flight to a destination you like.
After booking the flight, your thoughts turn to accommodation. So you go to the same website's hotels section and book a place to stay.
You then pay for all these elements of the holiday at the same time.
At present, this would not be regarded legally as a package, but under the new rules, this would come under Atol protection.
The government has proposed these new rules, now under consultation until 15 September, which it wants to be in place by the end of the year.
So when am I not covered?
Imagine the same scenario as above, but imagine you leave four days between your flight booking and hotel booking. This would not be covered because the various elements were not bought within a short period of time.
This will not be the only exemption.
If you buy a flight on its own, on an airline's website, then this is unlikely to be Atol-covered.
If you book independently, by finding flights and accommodation yourself by trawling the internet, then you will not be covered.
And, the last scenario in which you are not covered, which has proved to be most controversial, is one which could affect travellers on budget airlines.
This is when you book a flight on an airline or travel agent's website, you pay for it, and the website then recommends a hotel by providing a link to the hotel website which you then "click through" to and book in a separate transaction.
Is everyone happy about this?
No, and not just the holidaymakers who might be left out of pocket.
Operators who sell package deals say they take the financial hit when an airline goes bust. That is because they are effectively paying to get customers home who are stranded, because they have sold the flights as part of the package.
The airlines and travel agents who just sell flights do not have to pay.
The government has promised to have a look at this situation but it might require a change in the law, which takes time.
In the meantime, experts suggest people pay by credit card - which can offer some protection from the card provider - and buy good travel insurance from a provider of your choice at the time you book your holiday.