How to deal with mortgage issues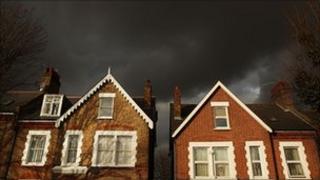 If you are having trouble paying your monthly mortgage repayments, then contact your lender immediately, preferably with a detailed proposal on what you can afford to pay.
Organisations such as Citizens Advice, who have produced a useful guide on the subject, will be able to help you do this.
Lenders must only turn to repossession as a last resort, after considering repayment holidays, or extending the term or type of mortgage.
A string of initiatives have been put in place to try to keep people in their homes.
Some enable not-for-profit housing associations to buy your home and then allow you to continue living there.
In England and Wales this is called the Mortgage Rescue Scheme and is run by local authorities.
In Scotland, this is called the Mortgage to Rent scheme and is part of the Scottish government's Homeowners' Support Fund.
The fund also includes the Mortgage to Shared Equity scheme, which involves the Scottish government owning part of your home.
There are currently no similar not-for-profit schemes in Northern Ireland.
But wherever you live in the UK, you should seek independent, free advice to discuss which arrangement, if any, would be right for you.
Housing charity Shelter provides specific help and advice for homeowners in England,in Scotland and in Wales. In Northern Ireland, the government-funded Housing Advice NI offers a range of services.
To see advice from mortgage providers, check the Council of Mortgage Lenders' guide.
Another initiative, the Homeowner Mortgage Support Scheme, allows households that see their income fall unexpectedly defer part of their payments for up to two years. Yet, only a very few lenders have said they would take part in this scheme.
In addition, the Support for Mortgage Interest (SMI) scheme, which helps people receiving some benefits, has been expanded and operates across the UK.
Under the SMI, the time before eligible homeowners who lose their jobs receive financial help with mortgage interest payments has been cut from 39 weeks to 13 weeks. However, the assistance only lasts for up to two years.
For first-time buyers and those remortgaging, make sure you choose the correct mortgage to suit your financial situation.
To find the level of mortgage to suit you, use the BBC mortgage calculator to help guide you.
A full round-up of mortgage and housing issues can be found in the BBC News website's Your Home section, which includes a video guide for first-time buyers.
The material is for general information only and does not constitute investment, tax, legal or other form of advice. You should not rely on this information to make (or refrain from making) any decisions. Links to external sites are for information only and do not constitute endorsement. Always obtain independent, professional advice for your own particular situation.