Egypt causes knee-jerk market reaction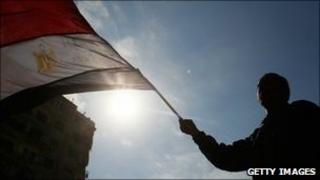 It has been a month of knee-jerk reactions, as Tunisia and then Egypt provided a reason for investors to sell shares, largely in Middle Eastern markets but globally as well.
At its worst point Dubai fell 6% in a day. Kuwait closed down 1.76% and the Qatar exchange closed 2.95% down.
Saudi Arabia, the region's biggest stock market, had one bad 6% fall but has crawled back.
None of them (apart from Egypt and Tunisia, which are down 21% and 10% respectively since 1 January) are looking at losses of more than 1% or 2% since the beginning of the year, and while they are volatile, they are proving resilient.
Examples of stocks which are most vulnerable are Dana Gas, which could have delays on payments from Egypt, and Emaar Properties - which has various projects in Egypt, including a four million square metre development called Uptown Cairo.
But again, their share price falls have all been manageable.
Bull market
Further-afield markets had their moments of panic, followed by recovery.
The Dow's worst day was over a week ago with a 1.4% fall.
But the stocks that suffered most didn't exactly have an Egyptian feel to them: Ford was down 13%, Amazon dropped more than 7%.
The problem in the US is that even if a (jobless) recovery is under way, a lot of investors are very suspicious of a bull market that has been in place since March 2009 and are eager to mark down stocks that may have over reached themselves.
In Europe the tourist industry has obviously been the most vulnerable of sectors.
On Thursday, Vice President Omar Suleiman said one million foreign tourists had fled the country over the past nine days, costing $1bn in lost revenues.
Tourism accounts for some 6% of GDP. Tui, which owns Thomson Holidays, reckoned disruption in Tunisia and Egypt could cost it up to $50m in lost earnings after it cancelled a slew of trips.
Its shares are down around 10% since the beginning of the crisis. BA/Iberia airline group IAG was also affected.
Oil issues
The most dramatic economic knock on effect from the Egyptian crisis to the rest of the world has been in the price of oil.
The anxiety about the security of the Suez Canal as a channel for five million barrels of oil a day (including oil pumped through the SuMed pipeline) has apparently sent Brent crude above $103 a barrel.
The consequences of a closed Suez Canal would be so drastic a step that Credit Agricole, in its report on the Egyptian crisis said it "would open the door to outside military intervention."
Not only that. It would be catastrophic to Egypt's economy.
The canal brings in around $400m a month. It is one of the country's biggest foreign exchange earners.
None of the parties in the crisis have an interest in closing it.
Not everyone agrees that the spike in prices is all down to a toxic mix of Middle Eastern politics and amoral speculators.
Oil expenditure
The International Energy Agency (IEA) told the US Congress on Thursday that speculators were not to blame.
IEA Deputy Executive Director Richard Jones instead put the rise down to more prosaic issues of supply and demand: "unseasonal weather patterns and better-than-expected global economic growth".
But before you start cheering the recovery to the rafters, Mr Jones added ominously that at $100 a barrel, world oil expenditures would equal about 5% of global gross domestic product, which in the past has dampened growth.
So, here's a conundrum: economic growth can only occur using energy at a cost... which restricts economic growth.
In short - we can't afford a recovery.
The obvious solution is that Opec should open the taps.
There seems no sign of that at the moment, with Venezuela's oil minister saying that $100 a barrel was a "fair value", and no apparent desire on any member's part to have an emergency meeting before its scheduled get-together in June.
Currency markets
For now the markets appear to be in a better mood about Egypt.
On Friday Egyptian dollar-denominated bonds started to climb once more and the cost of insuring against a default on its debt through credit default swaps started to fall.
Remarkably it has managed to raise some debt on the markets in the last few weeks - $400m on 27 January - although it had to postpone a larger auction three days later.
This coming week it faces a bigger test as it tries to tap the market for $1.88bn in short term debt.
On the currency markets the Egyptian pound has fallen little more than 1%, it's thought largely because of central bank support.
Economists are forecasting falls of anything between 20% and 50% when the banking system opens fully again, as depositors take cash out of the country.
That will inevitably feed through into higher prices for imported goods, especially food.
The result will be costly - either increased subsidies or higher interest rates to protect the currency. While the global markets may remain fairly equivocal, life for ordinary Egyptians is not going to get easier any time soon