Suzuki profits rise on booming Asia sales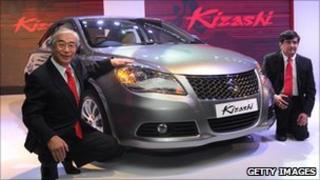 Suzuki Motor has reported a fourfold increase in third quarter profits, driven by strong sales across Asia.
The company made 12.2bn yen ($148m, £92m), up from 3bn yen a year earlier.
Operating profit for the first nine months of its financial year was 92.5bn yen, just short of its 100bn yen full-year target with three months in hand.
Sales grew rapidly at its Indian joint venture - Maruti Suzuki, which controls 50% of the Indian market - but are expected to tail off this year.
As well as a general slow-down in the Indian market and greater competition from other Japanese firms, the company said that profit margins at its Indian business are being squeezed by higher material costs.
Suzuki also reported that sales in Europe and North America have yet to fully recover to their pre-recession highs.
The company did not update any of its forecasts for its operating year, which runs up to 31 March, despite having already beaten its full year net income target.
Sales for the last nine months of 2010 were up 175% compared with the same period in 2009, while net profits were up 175%.