Caution dominates housing market, says Rics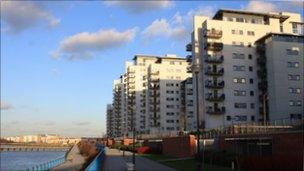 Cautious buyers and sellers failed to give any fresh impetus to the housing market in January, a survey has found.
All the key elements of the UK market pointed to a "sluggish" start to the year, the Royal Institution of Chartered Surveyors (Rics) said.
A lack of demand among buyers and low levels of supply of good, new property from sellers led to the lack of activity, it said.
Prices held up more in London than in other areas of the country.
Rics said that buyers were cautious about the outlook for the economy and the possibility of mortgage rate rises later in the year.
In January, more surveyors saw a decline in new instructions of sales than an increase, while actual sales slipped down in the three months to January to 14.6 per surveyor.
Overall, 31% more surveyors reported house prices fell rather than rose in January, although the majority said prices were unchanged in January compared with December.
Price falls were felt the most in the East Midlands, as well as Yorkshire and Humberside.
"The key indicators of market activity remained in negative territory in January, albeit a little less so than in December," said Ian Perry, Rics spokesman.
"Uncertainty over the prospects for employment, alongside the shortage of mortgage finance particularly for first-time buyers, continues to weigh heavily on transactions levels. However, there is a very clear regional pattern emerging."
Surveyors were expecting sales to pick up slightly in the coming months, the report added.
"Both buyers and sellers in cautious mood. [I am] looking forward to the Spring when hopefully some better weather may improve their mood," said Martin Allen, of surveyors Elgars, in Canterbury, Kent.
Chris Armstong, of Guy Woodcock and Company, in Deeside, Wales, said: "Continued uncertainty in respect of jobs and funding, or bank lending, will keep the brakes on the market. I expect a significant emphasis on energy-efficient properties, as fuel costs are becoming a real issue."
Other housing surveys have also suggested a lack of activity during the turn of the year.
Average fixed-rate mortgages were at their most expensive for six months at the start of February, according to separate research by financial information service Moneyfacts.
It said that lenders were finding that the cost of raising money themselves had risen in recent months, and this was being forwarded to customers.
"The majority of lenders have increased rates since the start of the year, with some mortgage deals seeing rate rises of more than 0.5%," said Michelle Slade of Moneyfacts.
"On a mortgage of £150,000, a 0.5% increase in rate would add £42 per month to a borrower's repayments."
She said this rise could continue in the coming months, although it could mean better news for savers. Lenders would want to attract savers' cash and so could start to offer better rates on savings accounts.
The Bank of England is meeting this week to decide whether to alter the Bank rate from its current record low of 0.5%.
Related Internet Links
The BBC is not responsible for the content of external sites.