Royal wedding blow for workers at floor firm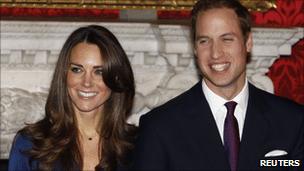 About 400 staff at a floor company have been told to work on Royal Wedding day, even though the government has declared it a bank holiday.
The GMB union said that Lancashire-based Interfloor had told staff in a notice that 29 April will be treated "as a normal working day".
Anyone wanting the day off must request to take the day from their holiday entitlement, the union said.
Interfloor would not comment, but an insider confirmed the move to the BBC.
GMB Regional officer Alana Armstrong, accused the company of a "bah humbug" management style.
The GMB also claimed that concrete group CPM, based in Somerset, had stopped staff from taking holiday on the wedding day, citing as one reason the number of other bank holidays in April and May.
The GMB said CPM' s other justifications were the current economic situation and the resultant business disruption.
But Rachelle Wilkins, GMB Organiser, Midlands and East Coast Region, called the reasons "pathetic".
She claimed the real reason was that CPM had been advised by an outside HR advisory service, which had examined staff contracts, that it could refuse to grant the Bank Holiday leave.
However, Nick Gainsford, director of CPM, said the group was still in recession. The winter blizzards caused the company to close early for Christmas, but the workforce had still been paid in December.
He estimated that the bad weather wiped out 30% of 2010 profits.
"Times are very hard," he said, "and our priority is to protect the jobs in our five factories."
Although the wedding of Prince William and Kate Middleton has been declared a day off, companies that demand staff work are operating within the law.
A spokesman for the Department for Business said there is no statutory right to time off for bank and public holidays.
"Any right to time off or extra pay for working on a bank holiday depends on the terms of an employee's contract of employment," said the spokesman.
Nonetheless he added that the government hoped employees would be given the day off to mark the wedding.
The GMB urged the management to compensate workers by offering double pay or a day in lieu as a gesture of goodwill, whatever their contracts said.
Interfloor makes carpet underlay and other accessories.
Related Internet Links
The BBC is not responsible for the content of external sites.