Senators propose tunnel linking New York and New Jersey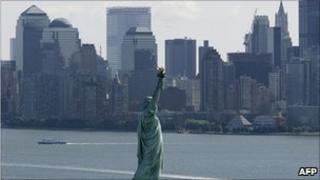 Three Democratic senators and US rail operator Amtrak have proposed a new $13.5bn (£8.4bn) rail tunnel linking New York City and New Jersey.
The rail company says $50m would be spent on preliminary planning for two tunnels under the Hudson River.
Amtrak said it would solicit funds from the states of New York and New Jersey, local authorities and private sources.
Republican New Jersey Governor Chris Christie cancelled a similar project last year after objecting to its cost.
Senator Frank Lautenberg, a New Jersey Democrat, said in a statement the state faces "a transportation crisis".
'Fed up commuters'
The existing century-old train tunnel linking New Jersey to New York City under the Hudson River is running at capacity during rush hour, with passenger numbers expected to double in the next 20 years.
Meanwhile, motorists must contend with heavy rush-hour traffic on two bridges and two vehicle tunnels.
"Our commuters are fed up with train delays that make them late to work and endless traffic that traps them on our highways when they want to be home with their families," he said.
New York Senator Charles Schumer, also a Democrat, said: "Building our mass transit infrastructure is vital to the long-term economic competitiveness and growth of our metropolitan region."
The project could be completed by 2020, Amtrak said. It said the two new tunnels would allow 13 more commuter trains and eight longer-distance Amtrak trains every hour during peak use.
In October, Mr Christie killed plans then under way to build a new tunnel, saying New Jersey could no longer afford to pay its share of the costs.
Cost controls
That project, estimated eventually to cost more than $9bn, would have been the largest public works project in the US.
He said at the time he preferred to spend state transportation funds repairing local roads, and the move earned him acclaim from Republicans who objected to large public spending projects.
Mr Christie said the new proposal contained elements that he supported but that were lacking in the project he ended, the Associated Press reported, including mechanisms to control cost overruns and to ensure the federal government lead the project rather than New Jersey.