Smart meters 'must not deter switching'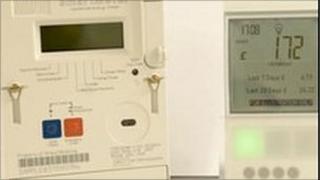 Smart meters being installed in UK homes must not create a barrier to consumers switching energy suppliers, regulator Ofgem has said.
By 2020, every home in Britain will be fitted with a smart meter - a device that shows exactly how much gas and electricity is being used.
Installation of the devices has already started in some households.
As a result, Ofgem plans to step up protection, so consumers are not tied to the supplier that fitted the meter.
"It is important that where a customer has a smart meter installed, this does not create a barrier to them switching supplier," the regulator said in a consultation document published on Monday.
However, Ofgem accepted that - at this early stage - customers might lose the added functions of a smart meter if they swapped suppliers.
In some cases, the technology would revert to a "dumb" meter - the type of meter found in most homes now, which requires a meter reading for an accurate bill.
Roll-out
The new coalition government said it was committed to the roll-out of smart meters. Under the plans, each home would get a new smart gas meter and a new electricity meter. One is the "host" meter, that will communicate with the customer and the supplier.
This should bring an end to estimated bills, because the technology sends back an accurate meter reading to the energy company every day.
However, various security concerns have been raised regarding the technology. This includes the amount of personal data held on the devices.
It also means that it could make clear the exact times householders tend to leave their home, or when they sleep, by looking at their energy usage.
As a result, Ofgem also said in the consultation document that it was keeping a close eye on suppliers to ensure that they were complying with existing data protection laws.
This would include keeping personal data secure, such as encrypting some information.
"There are still major concerns for consumers around smart meters which must be tackled. The next step must be for suppliers to address the data protection and privacy issues which the introduction of smart meters, and the information they collect, inevitably raise," said Zoe McLeod, energy expert at watchdog Consumer Focus.
"Suppliers must make sure that customers retain the privacy they want and the ability to switch easily to tariffs that work for them. We want to see firms rise to this challenge and make sure that customers who get smart meters early get a good service."
The watchdog said that it welcomed additional proposed measures to protect consumers against being remotely disconnected.
Christine McGourty, director of Energy UK, which represents the major energy companies, said: "Smart meters have the potential to transform the use of energy in the home and the industry is working closely with government and the regulator on key issues to be addressed before a nationwide roll-out.
"Data protection and security are of the highest priority and the industry has been at the forefront in developing proposals to ensure information is always used appropriately.
"Consumers will be at the heart of the process at every step of the way to ensure the smart meter revolution brings maximum benefits across Britain."
Fines
In a separate development on Monday, the regulator fined three power grid firms.
Scottish Hydro Electric Power Distribution (SHEPD), which is owned by Scottish and Southern Energy, E.ON-owned Central Networks, and Electricity North West were fined for taking too long to connect customers and for not having systems in place to monitor their service.
SHEPD is being fined £500,000. Central Networks will pay £400,000 and Electricity North West will pay £100,000 for its breach of the connection deadline.
These firms connect a range of customers to the power grid, such as housing developers and wind farms.