BG Group sees 2010 profits rise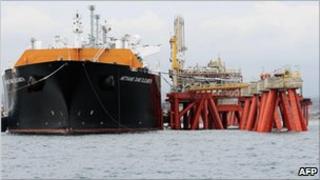 Higher commodity prices helped profits at British energy producer BG Group climb 9% in 2010.
The firm made an operating profit of $6.9bn (£4.3bn) from $6.3bn a year earlier - beating City forecasts. Revenues jumped 11% to $17.4bn.
The firm described 2010 as a "pivotal year".
And it set out a growth strategy that included raising long-term production targets for key US and Brazilian assets.
"2010 was a pivotal year for BG Group as the largest growth opportunities in our history began to crystallise amid a positive outlook for global gas markets," chief executive Frank Chapman added.
The results were "primarily reflecting the impact of higher commodity prices", the firm said.
This helped offset a surprise drop in the company's oil and gas production during the fourth quarter.
BG produces about a third of Egypt's gas, but it repeated an earlier statement that civil unrest in the country was yet to have a material impact on it.
Late last year, the firm approved its biggest investment so far, a £9.3bn liquefied natural gas (LNG) development in north-east Australia.
The Queensland Curtis Liquefied Natural Gas project will be the first plant in the world to convert coal seam gas into LNG, with the intention of producing 8.5m tonnes of LNG annually.
BG already has customers in China, Japan, Singapore and Chile lined up to buy the LNG.