Anglo Irish and Irish Nationwide assets to be auctioned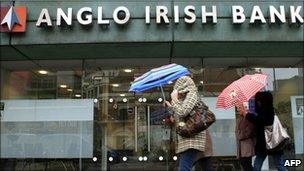 The Irish Republic's debt management agency has said it will start an auction process for the sale of the deposits and assets of Anglo Irish Bank and Irish Nationwide Building Society.
The government submitted restructuring plans for the two state-run lenders to the European Commission last week.
They also include the merger of Anglo Irish and Irish Nationwide.
Separately, Anglo Irish said it expected to make a loss of 17.6bn euros (£14.9bn) in 2010.
That would break its own record loss for an Irish company of 12.7bn euros for the 15 months to December 2009.
Several Irish banks had to be rescued by the government due to risky lending and the property market crash.
The government itself later had to accept a bail-out from the EU and IMF.
Under the terms of the 85bn-euro bail-out, the government had to put forward plans by last week to wind down the loan books and minimise the losses of the two lenders.
The Irish High Court has now given clearance to those plans.
"The NTMA (National Treasury Management Agency) will immediately commence an auction process to invite interested, fully-licensed financial institutions to tender for Anglo and INBS deposits," the debt management agency said in a statement.
"It is intended that this process will conclude as quickly as possible.
"The process will also involve the amalgamation of Anglo [Irish] and INBS into a merged entity regulated by the Central Bank of Ireland."
The banks said depositors need take no action and would not see any changes in their terms and conditions. They also reasserted that customers' money was safe.
"Customer deposits remain fully secure, our branch network remains open and customers should continue to transact as normal," said Irish Nationwide chief executive Gerry McGinn.
Related Internet Links
The BBC is not responsible for the content of external sites.