BA cabin crew to face new strike ballot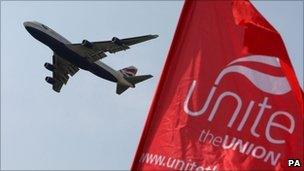 British Airways cabin crew are to be balloted again on strike action after the airline said a previous ballot was unlawful.
BA workers voted last month for further stoppages, but the Unite union said it would hold a new vote after a "legal blitz" by the airline.
BA said the union had "nobody to blame but itself".
The dispute centres on action against staff who went on strike last year, including the removal of travel perks.
"Unite has once again failed to conduct a proper ballot. We make no apology for having advised Unite of the flaws in its conduct," BA said.
It added that the union had been aware the ballot "lacked legal validity" for more than three weeks.
"It chose to hide this fact from its members, opting instead for rhetoric about industrial action it knew could not happen."
No dates for new strike action had been announced.
Unite said BA had informed the Electoral Reform Society (ERS) that the recent ballot was unlawful and that any action taken would be unprotected.
General secretary Len McCluskey said Unite could therefore not call a strike based on the ballot, as this would "expose our members to sanctions".
However, he added he anticipated giving the airline official notice of a new vote within 10 days, unless negotiations began.
BA's complaint about the ballot would not "break the spirit of cabin crew" he added, calling on the airline to "take its employment relations seriously and start negotiating".
BA also called on Unite to restart negotiations.
"There have been enough ballots. It is time for Unite to return to the deal we negotiated, which leaves our existing Heathrow crew the best rewarded in the UK industry, and to put this dispute behind us," the airline said.
It was not immediately clear which element of the ballot had prompted the complaint by the airline.
In May last year, BA was granted an injunction after the High Court ruled the Unite union had not reported results of an earlier strike ballot correctly to members.
Unite had said its members voted by 5,751 to 1,579 in favour of further strike action in the most recent vote, on a turnout of 75%.
However, BA said that Unite did not have "majority support" for strike action.
"Of our 13,500 crew, only 43% voted in favour of strike action in this ballot," the airline said.
The Unite dispute has already cost BA £150m and led to 22 days of strikes.
The dispute started in November 2009, when BA reduced the number of cabin crew on some long-haul flights from 15 to 14, and introduced a two-year pay freeze from 2010.
This led to a series of strikes in the spring and summer of last year.
Following these strikes, BA removed the travel concessions of those who took part, with some also facing disciplinary action.
It is this action by BA that is now central to the dispute, Unite says.
It wants the restoration of travel perks in full, arbitration through Acas of all cabin crew disciplinary cases related to the dispute, and restoration of pay to those who were genuinely sick during the dispute.
It also wants a full discussion about how BA has handled industrial relations within the company.
Related Internet Links
The BBC is not responsible for the content of external sites.