Peugeot Citroen reports strong 2010 recovery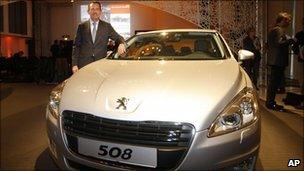 French carmaker Peugeot Citroen has returned to a full-year profit after seeing a strong recovery in 2010.
Sales rose by 15.8% to 56bn euros ($76.5bn; £47.6bn), "driven by successful new models, market share gains and improved demand worldwide".
It reported a net profit of 1.13bn euros for last year, compared with a loss of 1.16bn euros in 2009.
Peugeot said that in 2011 it would continue with its second joint venture in China and would enter India.
Chairman Philippe Varin said 2010's results were "significantly ahead" of target.
When carmakers globally were suffering due to a drop in demand during the financial crisis, Peugeot received a 3bn euro loan from the French government in April 2009.
In September 2010, it repaid a third of that, and Mr Varin said the company's "solid financial situation" would enable it to reimburse fully the remaining 2bn euros.
The carmaker said it expected the European market to remain stable in 2011, but forecast growth of 4% in Latin America, 10% in China and 15% in Russia.
Related Internet Links
The BBC is not responsible for the content of external sites.