German exports rose 18.5% in 2010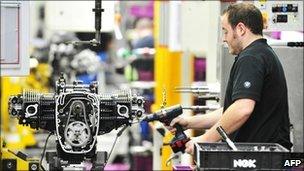 German exports rose 0.5% in December to round out a year of strong growth, increasing 18.5% in 2010, figures show.
But imports fell unexpectedly in December, down 2.3% on November, versus analysts' forecasts for slight growth.
Nevertheless, for the whole of 2010, imports rose by 20%, the Federal Statistics Office said.
The rebound in economic growth in Germany - Europe's largest economy - has been driven largely by exports. The economy grew by 3.6% last year.
The statistics office said it had revised data for January to November.
Carsten Brzeski, senior economist at ING, said: "The export-led recovery is alive and kicking.
"Despite fiscal consolidation in other eurozone countries and slower global demand, products 'made in Germany' remain a bestseller."
Related Internet Links
The BBC is not responsible for the content of external sites.