Export help for small businesses unveiled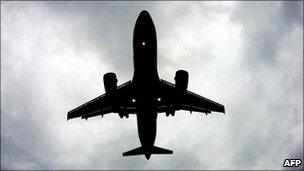 Measures to encourage smaller companies to export more have been unveiled by Business Secretary Vince Cable, as figures showed a widening in the UK's trade deficit in goods and services.
Mr Cable said the UK had "consumed too much and exported too little".
Four new schemes would be created to help firms get access to credit and insure against risk, he said.
Some analysts said the trade figures cast doubt over whether exporters would be able to drive the UK recovery.
The Office for National Statistics had earlier said imports had increased following a rise in orders for aircraft, ahead of a change in VAT.
With exports falling slightly, the trade deficit in goods and services - the difference between the UK's exports and imports - grew to £4.831bn in December, its highest level since August 2005.
an Export Working Capital Scheme
a Bond Support Scheme
an extension of the Enterprise Finance Guarantee (EFG) to exporters, offering export finance of up to £1m to small and medium-sized enterprises (SMEs).
Peter Ibbetson, chairman for small business at Royal Bank of Scotland, welcomed the extension of the EFG and said the bank would give it its full support.
"The extension of this scheme to exporters is a welcome step which will be hugely valuable to UK businesses and play an important part in supporting the economic recovery," he said.
Shadow business secretary John Denham welcomed the "broad thrust" of the plans but said exports alone were not sufficient without a "credible plan for growth".
The British Chambers of Commerce (BCC) said it was disappointed by the latest trade figures reported by the ONS.
Excluding the exports of oil and other erratic products, exports of goods fell 1.3%.
It said the figures showed that the UK's trading position was not improving.
"Although exports have grown at various points over the past year, the pace of recovery is not strong enough," said David Kern, chief economist at the BCC.
"A substantial increase in net exports will be a key component in any sustainable UK recovery."
The BCC has called for more government support for exporters.
Its International Trade Survey of 8,000 UK companies suggested that nearly 70% of companies did not currently export.
The BCC said many of those businesses were unable or unwilling to consider potential export opportunities, citing reasons such as unsuitable products and services, lack of resources, and needing help to find overseas customers.
For the whole of 2010, the UK's deficit grew to £46.2bn from £29.7bn in 2009, the ONS said in its latest release.
In December, the total value of exports from the UK fell slightly to £37.647bn. Imports rose by £868m to reach a new high of £42.478bn, which included a £652m increase in aircraft imports.
This also contributed to the trade deficit for goods hitting a record high of £9.247bn, compared with £8.460bn in November.
The ONS also said there was some evidence that adverse weather had affected trade volumes, although some of this was compensated for on other days in the month.
"The headline data is disappointing, but the impact of the weather really was always going to make it very hard to discern the underlying trend," said David Tinsley from National Australia Bank.
"So while they're somewhat disappointing I would leave them aside until we get the January figures and can assess whether there has been a bounce back in some of the issues.
"There's also an erratic story going on in terms of beating the VAT hike, in terms of aircraft imports, which are up over half a billion pounds, so that explains part of it as well," he added.
Related Internet Links
The BBC is not responsible for the content of external sites.