Council pension scheme reform could trigger 'exodus'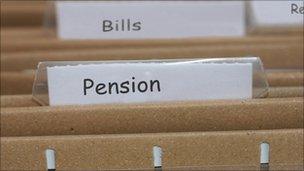 Plans to raise local government workers' pension contributions could lead to a "mass exodus" from the scheme, an authority has warned.
The Treasury plans to raise public sector workers' contributions by an average of 3% over three years.
But the London Pensions Fund Authority has said that the extra cost to employees could lead many of them to pull out.
Proposals from a major review of public sector pensions will be published soon.
Lord Hutton, a former Labour minister, is expected to recommend that many schemes move to a career-average basis, rather than the more generous final-salary structure.
But a requirement for higher employee contributions is likely to be brought in before any root and branch changes to public sector pensions are put in place.
The Local Government Pensions Scheme is a funded scheme, which means the pensions are paid for by underlying investment funds, not out of general taxation.
In England and Wales, the average local government pension in payment at March 2009 was £4,044 a year.
The London Pensions Fund Authority, which administers the scheme in London, has calculated that an employee - such as a social worker - earning about £30,000 to £40,000 could see their pension contribution rise from 6.5% of their salary to 11%. This would come on top of pay freezes.
It said that such an increase would lead many to opt-out, would result in a significant loss of income for the government, and would put the whole scheme under added pressure.
"Employers could well end up having to put more money in than they do today resulting in a net loss to the public purse," said the authority's chief executive Mike Taylor.
He called for the Treasury to consider alternatives to raising employee contributions, such as accelerating a change to a career-average structure.
The Department for Communities and Local Government has previously said that the chancellor had made it clear that government must consider options for reform "that are fair to the taxpayer and to people who work in the public sector".
Related Internet Links
The BBC is not responsible for the content of external sites.