Q&A: Project Merlin bank deal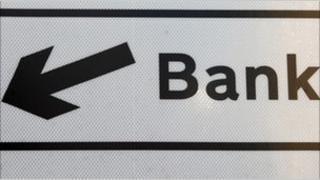 The chancellor has announced details of Project Merlin - an agreement between the government and the UK's four biggest banks.
HSBC, Barclays, Royal Bank of Scotland and Lloyds Banking Group have all signed up to the deal, which covers lending, bonuses and transparency.
What exactly have the banks agreed?
In a nutshell, the banks have committed to lending more money in 2011, especially to small businesses, to pay less in bonuses than they did last year and to be more transparent about their pay packages.
They have also said they will make a greater contribution to regional economies and society.
How much will they lend?
The four banks, plus Santander, will commit to making £190bn of credit available to businesses in 2011, up from the £179bn they lent in 2010.
Of this lending commitment, £76bn will be made available to smaller businesses. That represents an increase of £10bn, or 15%, in credit that was available to SMEs in 2010.
The banks will also provide £200m capital to David Cameron's Big Society Bank, which is supposed to finance community projects.
And they will provide an extra £1bn of equity capital over three years to the Business Growth Fund, which aims to help small business in hard-pressed parts of the UK.
And what have they said about bonuses?
The four Merlin banks have also agreed that total bonuses for their UK-based staff will be lower than they were in 2010.
RBS has said that chief executive Stephen Hester will receive a £2m bonus for 2010, all in shares and payable after three years.
It also said that its bonus pool for its investment bankers in 2010 would be less than £950m, which is less than it was in 2009.
Lloyds, meanwhile, has said that outgoing chief executive Eric Daniels will receive a bonus of £1.45m for 2010. He was paid about £1.1m for 2009, having waived his bonus.
How transparent will banks' pay packages be?
This year the Merlin banks will publish the pay packages of their five highest-paid executives below board level (but not the pay of traders who don't have management responsibility).
However, while the executives' pay will be revealed, their names will not.
The remuneration committees at the banks will also have to sign off the pay of the 10 highest-paid individuals in each business division. This is designed to make it easier for shareholders to hold banks to account for what they pay.
And from 2012 all big banks in the UK will have to publish the pay of their eight highest-paid executives below board level. This will also apply to the UK operations of overseas banks.
What checks will there be on the banks to make sure they stick to their commitments?
The Bank of England will monitor whether funds are being made available to businesses and will publish quarterly assessments.
Providing the promised credit to businesses will also be one of the performance targets used to determine the bonuses of bank chief executives.
Why was the government so keen to get this deal done?
Businesses, in particular small firms, have complained of being starved of finance since the start of the financial crisis. Increased lending, they say, is what's needed to really get the recovery going.
Regarding bankers' pay, George Osborne admits that it has become "out of kilter" with what the rest of society would regard as fair or reasonable.
The government has said it wants to bring responsibility and constraint to City remuneration, and says the UK will now have the most transparent regime for bankers' pay in the world.
UK banks start publishing their end-of-year results and bonus pools next week, and the government was determined to complete Project Merlin before that.
What difference will it make?
On the one hand, the Treasury points out that in 2010 RBS and Lloyds both lent more than they promised to do, so the chancellor is hopeful that bankers will again exceed the targets.
But on the other hand, credit to businesses will be provided on commercial terms, and will be subject to demand. So many small businesses will probably continue to complain that even when credit is offered, it is too expensive.
Moreover, the banks' commitments to lend more and to pay less in bonuses is only for this year.
Although the UK's biggest four banks have signed up to these commitments, the disclosure requirement on pay for top executives that comes into force from next year will also cover UK staff at big overseas banks such as Goldman Sachs and UBS.
They may not like the requirement and it remains to be seen how they will react.
What else is the government doing?
The completion of Project Merlin comes a day after the chancellor announced he would increase the levy on banks to £2.5bn this year, raising an extra £800m.
Mr Osborne had originally said that the new levy would be phased in, with a lower rate applicable in 2011.
BBC business editor Robert Peston said the chancellor had concluded the banks were in better shape than he previously thought.
The government has also set up the Independent Commission on Banking to look at reform of the banking sector and to consider whether the UK's biggest banks should be broken up.
The five-person commission is chaired by Sir John Vickers, a former chief economist at the Bank of England. It will publish an interim report in April and has until September 2011 to make its final recommendations to the government.