Williams says F1 cost structure makes it unique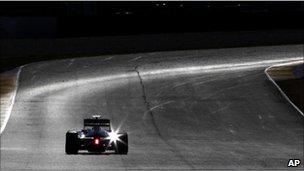 Formula 1 team Williams has said its plan to sell shares on the stock market offers investors an opportunity to buy into an industry that is free to decide how much profits it wants to make.
"I can sit down with my competitors and we can fix the costs of the industry to ensure revenues exceed costs," chairman Adam Parr told BBC News.
"And that's legal, unlike most industries."
The plan to float a 27% stake in the firm on the Frankfurt stock exchange was announced last Friday.
The ability to fix costs in the Formula 1 industry has helped teams reduce spending in recent years, Mr Parr explained in an interview with BBC News.
"We're in a sport, so rather like soccer, which is a good example of a sport that's not doing it, we can sit down, we are allowed to sit down - which we have - and say 'let's limit testing because it costs an inordinate amount of money'," he said.
"So, for example, we have reduced testing from something like 60,000km per year to, say, 15,000km per year.
"We have increased the engine life. When I started only four or five years ago, we were using about 55 engines a year. We're now using 20 a year and in 2013, we'll be using 10 or 12 a year.
"So we can change the technical rules and we can also change the sporting rules to influence the cost base."
In addition to this, the sport has put in place a variety of financial controls during the last 15-18 months, he continued.
"So we have limits on the number of people we can employ, the number of hours of tunnel testing you can do, the number of technical people you can take to a race.
The Formula 1 industry has long been engaged in talks aimed at reducing costs by two-thirds, observes Professor Mark Jenkins at Cranfield School of Management.
"If the F1 teams are able to control their costs, which has been one of their biggest issues, then it could be a very good investment," he said. "The potential for sponsorship is still there, but the cost base is smaller."
However, "it certainly isn't a risk-free investment", he added.
"The risk is that they can't agree, and if one of the better resourced teams say they don't want to play this game any longer there could be cost inflation," he said.
New and traditional revenues
The business model of Formula 1 is very different from that of other companies, including other sports.
Williams' revenues consist of the team's share of the Formula 1 prize fund, which is made up of fees from broadcasters and race promoters, as well as income from championship sponsors like UBS and LG.
In addition, the teams and drivers have sponsorship revenues of their own.
"Those are the traditional sources of revenues," Mr Parr said.
"In addition, Williams is developing new businesses, such as Williams Hybrid Power, to exploit our engineering expertise and our brand, and we intend and expect this to provide new sources of revenue and profits."
This would involve the creation of subsidiaries that try to sell Williams technology to companies elsewhere in the motor industry, or even in other industries such as energy, aerospace or health.
"We're a very intensive engineering firm, as well as a racing team," said Mr Parr.
"Up until now, there's only been one other team that has really ever tried to do this, which is McLaren, and they've done it very successfully in a number of areas.
"None of the other teams have been selling technology on any significant level, and certainly not outside Formula 1."
Investors with deep pockets could also gain access to the pits during practices and races.
"We're offering investors who acquire 1% of shares or more membership of a very exclusive members' club that we're setting up, which will give them access behind the scenes, in the garage, at races etc," Mr Parr said.
With an initial public offer price in the range 24-29 euros per share, the mid-point values the company at 265m euros.
"So you'd need 2.65m euros, roughly, to buy 1%, which I appreciate is a lot of money for most of us", Mr Parr said.
"But there are many people out there for whom that would be an interesting proposition.
"Unfortunately, not everyone will be able to afford that, but I hope that for anybody who is a shareholder, obviously we want to look after them, we want them to feel special and feel that they do own a piece of the team and a piece of the sport."
The share sale will not raise any money for the Williams team as the existing share holders are selling some of their own stock.
The sale is being done to help recruit and retain top people and to ensure Williams' long-term future as an independent company, according to team principal and co-founder Sir Frank Williams, who will remain a majority shareholder following the flotation.
The team was founded by Sir Frank and Patrick Head in 1977.
"We've been talking about our future after us, well beyond the lifetime of Patrick and myself," Sir Frank said.
Mr Parr added: "We have two dominant shareholders who are in their mid to late 60s, both in very fine condition but both looking to exit the business at some point.
"The flotation creates liquidity for them and, more importantly, for the team it creates stability - we don't end up being owned by Russian oligarch or a car company who might one day pull the pin."
Related Internet Links
The BBC is not responsible for the content of external sites.