RBS banker bonuses fall to £950m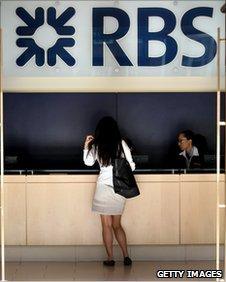 Royal Bank of Scotland has said it will pay its investment bankers bonuses of about £950m for 2010 - down from £1.3bn the previous year.
However, only up to £2,000 of any bonus will be cash - with the rest in shares.
RBS chief executive Stephen Hester will receive a £2.04m bonus - all in shares - with his salary frozen at the 2008 level of £1.2m.
Meanwhile Lloyds Banking Group said its outgoing chief executive Eric Daniels would get a £1.45m bonus for 2010.
"In considering the award, the board took into account the current environment and desire for restraint," Lloyds added.
Mr Daniels, who was in charge at Lloyds at the time of the disastrous takeover of Halifax Bank of Scotland, was paid about £1.1m for 2009, having waived his bonus.
The bonus details came hours after the government confirmed a long-awaited agreement with the largest UK banks on lending and bonuses, called Project Merlin.
However it is believed that RBS, which is 84%-owned by the taxpayer, has reduced its bonus pool in part because its investment banking arm had a worse year in 2010 than in 2009.
"Not all of the fall represents pay restraint imposed by the board of RBS as a result of the Merlin talks," said BBC business editor Robert Peston.
Reports suggest that an estimated 200 of RBS's highest earning investment bankers would earn more than £1m in bonuses each.
Related Internet Links
The BBC is not responsible for the content of external sites.