US unemployment to remain high for years, says Bernanke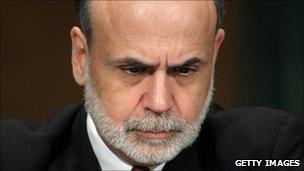 The US unemployment rate will not return to pre-financial crisis levels for "several years", Federal Reserve chairman Ben Bernanke has said.
Until the economy sees sustained and strong job creation, "we cannot consider the recovery to be truly established", he added.
Mr Bernanke also said the US government budget deficit, which rose sharply during the crisis, was "unsustainable".
The long-term challenges of reducing the deficit were "daunting", he added.
This was because the underlying reasons for the deficit were not additional government expenditure during the crisis, but "the ageing of the population and rapidly rising healthcare costs", he told the Congressional Committee on the Budget.
Citing Congressional Budget Office projections, Mr Bernanke said the current budget deficit of 9% of total economic output, or GDP, would fall to 5% in 2015, but then rise to 6.5% by the end of the decade.
The budget deficit is the amount by which government expenditure exceeds its income in any given year, expressed as a percentage of GDP.
Total government debt is predicted to rise from 60% of GDP currently to 150% by 2030.
Mr Bernanke said that at current rates of borrowing, the US debt problem becomes "unbearable by 2035 or 2050".
However, he said government cutbacks needed to be long-term in nature, and that dramatic spending cuts now could jeopardise the economic recovery.
He said spending cuts or tax rises needed to be looked at through a 10-year window, where cuts would be phased in as time goes by.
This contrasts with the policies being put in place by a number of European countries, including the UK, which are designed to reduce government spending sharply in order to reduce budget deficits.
The Federal Reserve is currently half way through its second quantitative easing (QE) programme, under which it has pledged to pump $600bn into the economy to help boost demand.
Mr Bernanke said he thought the second programme had been successful, citing one study suggesting it had saved about three million jobs.
He said if the recovery looked to be a on a sustainable path in June, when the programme will end, and if inflation appears stable at about 2%, no more QE would be needed.
Mr Bernanke said that the US did not currently have a problem with inflation, and that the recovery had strengthened in "the past few months".
"We have seen increased evidence that a self-sustaining recovery in consumer and business spending may be taking hold," he said.
The Fed chairman also highlighted "notable declines in the unemployment rate in January and December".
However, he said moderate growth and reluctance among employers to hire new staff meant "it will be several years before the unemployment rate has returned to more normal level".
He said the bulk of unemployment was cyclical, but that if the jobless rate remained high - it currently stands at 9% - for long enough, then it would become more structural in nature.
He said it would take roughly 10 years to return to a sustainable unemployment rate of 5%-6% at current economic growth rates - in the final three months of last year the economy grew at an annualised rate of 3.2%.
However, Mr Bernanke said he expected growth to pick up in 2011.
Related Internet Links
The BBC is not responsible for the content of external sites.