China's wealthy head for the ski slopes
By Nick Mackie
Yabuli's Sun Mountain, Heilongjiang Province, China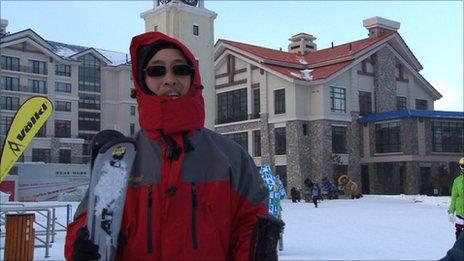 In China frozen north-east there is a tiny enclave where the word "party" has nothing to do with Communism.
With its signature all-inclusive offering of gourmet buffets, entertainment and hyper-enthusiastic hoolies, Club Med has opened its first resort in the People's Republic - at Yabuli's Sun Mountain, Heilongjiang Province.
This is also arguably the country's first truly international standard ski destination.
A Sino-Canadian investor has poured tens of millions of dollars into Sun Mountain, from lift systems to ski equipment, from hotels to residential real estate.
It is in a different league when compared with so many of China's ski areas that are both poorly maintained and lack quality dining, lodging and apres ski facilities.
That said, until Club Med took control of the main hotel complex next to the gondola station, visitor numbers last season were often in single figures as many skiers were day-trippers from the nearest city, not holidaymakers from across the country and beyond.
So a deal was done: the company would spend some $3m (£1.9m) on interior fittings - then market and run the resort on a management basis.
In this, its first winter season, the hotel is achieving 65% occupancy as monied Chinese flock to the resort, so general manager Christian Noret is confident it will be profitable by the end of the ski season in April.
In a country with an average urban monthly income of $270, the resort is clearly for the well-off.
Adults here pay upwards of $200 per day each. This includes ski lessons and a lift pass, though daily boot and ski hire add $45 to the bill.
Danny Wu, who runs an electronics company in Shenzhen, Guangdong province, is one of the country's 300 million urbanites that are labelled "wealthy".
In the gondola, the Wus explain that they can afford the flights and a three day Club Med package, before pointing out that in China another factor that makes the sport exclusive is the lack of holiday time.
"It's not a popular sport, especially in the southern provinces," says Danny Wu.
"Few people have the time and the money to spend on the ski travel and ski holiday."
Unlike in Europe and the US, where many skiers can take a one or even two weeks off in the mountains, in China time off for employees is generally limited to national holidays, of which only one falls during the winter months.
And the first days of this break, the Chinese New Year, is traditionally spent at home.
Estimates of the number taking to the snow vary wildly.
In 2005, the China Ski Association put it at five million, up from just 200,000 in 2000.
The prediction is that by 2014, 20 million Chinese will ski.
These grand numbers would include those who go to a slope for one or two days in a year, however.
As for the skiing at Yabuli, which is a three and a half hour grimy train ride from the nearest city, Harbin, there are 17 well groomed runs.
These include slopes for beginners and intermediates, which have "magic carpet" conveyors to transport skiers up the slopes.
JT Williams is an Aspen Colorado ski instructor.
This season, as a local technical coach, he is responsible for training the local ski instructors.
As 80% of the visitors are beginners, it is vital for return business to get first-timers hooked on the sport.
Out on the higher slopes, Mr Williams explains that Yabuli is not like the huge ski areas of Europe and the United States. Instead, it is similar to compact resorts in the east of America, with a handful of European category red runs.
And with temperatures here in north-east China typically minus 20 degrees Celsius in early February, the snow is dry and the pistes well groomed.
"The snow quality is very good, comparable to back home in Colorado," Mr Williams says.
"It's so cold here, the snow is really dry. It's excellent."
While Yabuli's Sun Mountain delivers on quality, China's ski industry is trying to shake off a reputation for badly maintained slopes, ageing ski equipment, poor infrastructure and service - hardly the stuff of an aspirational pursuit.
Many of the facilities are run by companies that have little experience, so they're learning on the job, year-by-year.
On the Russian border, 550 kilometres north of Yabuli, Heihe has a typical one-slope ski area with little in the way of associated facilities.
Here, skiers pay $25 for two hours on the slope, including ski hire and use of the lifts.
Few visitors opt to pay for lessons and, unlike at Sun Mountain, these are not actively encouraged.
So for those new to the sport, skiing safely is more luck than judgement.
That said, the slope here is well maintained and interesting enough for intermediate level skiers.
In a season that spans from late November to the middle of March, Heihe attracts a modest 300 skiers per week.
Its management accepts that there is still much to do to improve the facilities, and so attract more visitors, including those from the nearest Russian city just 30 minutes away.
But cost is a limiting factor.
"So far, the ski business is not ideal in Heihe because in China the ski industry is underdeveloped," explains Dong Zhongwu, assistant manager of Heihe Long Zhu Far East Ski Area.
"Much of the equipment has to be imported, so the cost to ski is quite high."
Back at Yabuli, one thing that western ski enthusiasts may find missing is the absence of a ski culture - that is, pursuits off the piste, or apres ski.
Most skiers come at weekends, sometimes on a day trip. There are no mountainside bars and quality restaurants. Such is the early stage of China's ski industry development.
But at night, there's no holding back those staying in Club Med, which expects China to become its second-most important market in the world.
Here, international staff from 21 countries are experts at getting folk up on the dance floor.
This is an eye opener for China's upwardly mobile families, who are not known for letting their hair down, shoulder-to-shoulder with total strangers.