Liverpool former co-owner Tom Hicks seeks damages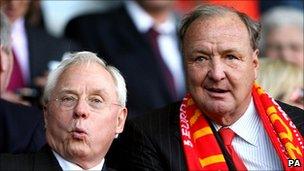 Former Liverpool co-owner Tom Hicks has asked the High Court to lift orders that are preventing him and business partner George Gillett from seeking about $1bn (£620m) in damages.
The two believe they are due compensation following the forced £300m sale of the club to New England Sports Ventures (NESV) last October.
At the time, they described the sale as "an epic swindle".
Mr Hicks wants damages from former club directors and Royal Bank of Scotland.
RBS had provided Mr Hicks and Mr Gillett with a large loan facility which they used to help buy the club.
A spokesperson for the bank said: "The courts described the claims made by Hicks and Gillett last year as 'not realistic and abusive'. Any further claims against RBS will be vigorously opposed."
The former directors include the chairman of British Airways, Sir Martin Broughton.
Mr Hicks and Mr Gillett believe the club was worth a lot more than the £300m that NESV, the owners of the Boston Red Sox baseball team, paid.
They tried to block the deal, but the High Court granted anti-suit orders that prevented the owners taking action in the Texas courts.
The two US businessmen bought Liverpool in 2007 for £220m, shortly before the club reached the Champions League final for the second time in three years.
After initial investment in the squad, supporters quickly became disillusioned at what they saw as broken promises - namely to start work on a new stadium and not to load debt onto the club itself.
When the financial crisis hit in 2008, it became clear the owners did not have the financial muscle to compete with other Premier League teams' lavish spending.
After initially looking for fresh investment, they reluctantly agreed to sell the club last year, but were looking to make a handsome profit.
Fellow board members took the view that the price they wanted - reportedly around £800m - was wholly unrealistic, and forced through the sale to NESV.
Related Internet Links
The BBC is not responsible for the content of external sites.