Reliance wants probe as 'rumours' cause $2.5bn slump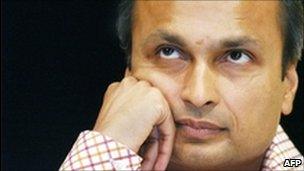 Reliance ADA Group, the company owned by billionaire Anil Ambani, has blamed "baseless and motivated rumours" for wiping $2.5bn (£1.5bn) off the value of six of its listed subsidiaries.
On Wednesday, Reliance Infrastructure led declines, shedding as much as 25%, before ending the day 19% lower.
India's second-biggest mobile phone firm Reliance Communications, lost as much as 18%, before ending 14% lower.
Reliance ADA Group has asked market regulators to investigate the trading.
Both companies have rebounded on Thursday, with Reliance Infrastructure gaining 8% and Reliance Communications picking up almost 4%.
Reliance ADA Group did not say which companies it accused of spreading rumours.
It added that the rumours were "accompanied by vicious and illegal bear hammering of our listed stocks, to create panic and destabilise the markets".
Indian shares closed at a seven-month low on Wednesday and the stock market is one of the world's worst-performing this year.
A series of corruption scandals and accelerating inflation have dampened the mood for investors in Asia's third-biggest economy.
Related Internet Links
The BBC is not responsible for the content of external sites.