PetroChina buys stake in Encana shale gas project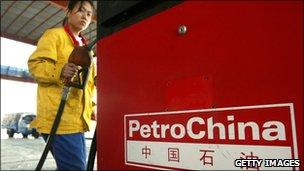 PetroChina, the Chinese state-controlled energy firm, is to pay 5.4bn Canadian dollars ($5.4bn; £3.37bn) for a 50% stake in a shale gas project run by Canadian firm Encana.
The Cutbank Ridge deal marks a further step in a developing energy relationship between China and Canada.
PetroChina has made other investments in Canadian natural resources.
It took a 60% stake, costing $1.7bn, in two projects owned by Athabasca Oil Sands in 2009.
Many in the oil and gas industry see so-called unconventional gases as an untapped energy resource with great potential.
However, the exploration of shale rocks for energy is a controversial subject for many.
Environmental groups say that the process used to extract the gas is new and untested, and that the potential health effects on those who live in areas where shale gas extraction takes place are unknown.
The new extraction techniques have been accused of poisoning water supplies, destroying natural landscapes, and taking crucial investment away from renewable technologies.
However, the industry denies that the extraction of shale gas is unsafe.
Shale gas is natural gas which has become trapped under clay.
Over time, and under geological pressure, the clay has turned into shale rock.
It was previously difficult - and uneconomic - to extract gas from shale rock but energy firms have become more adept at mining this resource in recent years.
Energy firms now use a technique known as "fracking" whereby firms drill down into the rock and then force the gas out with a mixture of sand, water and chemicals pumped into the ground with high pressure jets.
China itself is thought to have significant deposits of unconventional gases.
The Encana deal gives PetroChina both the opportunity to extract resources and acquire technological expertise for use in China.
For Encana the deal allows the Cutbank Ridge project to move forward at an accelerated pace and reduce the need to find further capital investment.
Related Internet Links
The BBC is not responsible for the content of external sites.