Renault targets developing markets for sales growth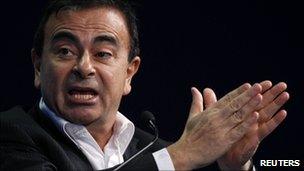 French carmaker Renault has said it aims to almost double operating profit margins to 5% in two years by focusing on sales in Brazil, Russia and India.
Strong growth there should help it to sell a total of three million cars a year by 2013.
The company will also join its alliance partner Nissan in an effort to produce 500,000 electric cars per year by 2015.
Renault also reported net profits of 3.4bn euros ($4.6bn; £2.9bn) for 2010, up from a 3.1bn euros loss in 2009.
The new targets were outlined in a six-year strategy announcement.
"We have made a plan that I consider more robust today, with estimates which in some cases are quite conservative, to ensure that Renault has every chance to succeed in its plan," chief executive Carlos Ghosn said.
But some industry observers criticised Mr Ghosn's insistence on having separate strategies for Renault and Nissan, given that he is the chief executive of both the companies.
"The two companies [Renault and Nissan] continue to be financially separate, with a structure that is fundamentally inefficient when it comes to the transfer of cash between nations and proper equity recognition," said Max Warburton, motor industry analyst at Bernstein.
"Ghosn just disappointed investors with a strategic plan [for Renault] that totally fails to address this issue."
Last year, the company sold 2.6 million cars.
"The company's situation in 2011 is much stronger in terms of products, technologies and profits," Mr Ghosn said.
However, Mr Warburton said Renault's performance in recent months looked "pretty uncomfortable and hardly provides a good basis for a company claiming it will make 5% margins in 2013".
Renault's plan to make money by selling small cars in the developing world is in line with the strategies of many of its rivals, whose mantra in recent years has been to build factories in countries where sales are growing.
Indeed, growth in these markets is especially important for Renault as it is not a player in the lucrative US market, and thus it relies heavily on the stagnant European market that is plagued by manufacturing overcapacity.
Marques such as Dacia, Renault's Romanian low-cost brand, and Renault Samsung, its Korean subsidiary, should help bolster growth in the developing world.
In Russia, its stake in AvtoVaz, which makes Lada, should help sales rise.
But whereas most other carmakers are targeting China in a big way, Mr Ghosn said Renault would not enter that market, at least not during the next two years.
"We have no plans for China until 2013," he said.
The company's vision of the market for electric cars is perhaps more ambitious, as has been highlighted recently in a high-profile espionage scandal.
Together with Nissan, Renault said it hopes to sell 1.5 million electric vehicles by 2016, backed by a joint 4bn-euro investment in the technology.
Renault is also hoping to cut costs by deepening its relationship with German industrial group Daimler, which owns Mercedes and other brands.
A year ago, the Renault-Nissan alliance agreed to develop cars jointly with Daimler in order to save 4bn euros between them over a five-year period.
Related Internet Links
The BBC is not responsible for the content of external sites.