Hong Kong's stock exchange open to alliances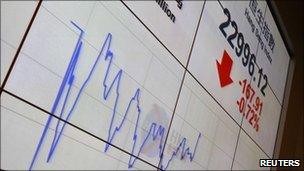 The Hong Kong stock exchange has said it is open to international alliances, suggesting there is likely to be more consolidation among exchanges.
On Wednesday, the London Stock Exchange confirmed a tie-up with TMX of Canada, while Deutsche Boerse and NYSE Euronext said they were in advanced talks.
News of the talks boosted shares in the exchanges in early Thursday trade.
Deutsche Boerse jumped 6% on Thursday, while NYSE Euronext's Paris-listed shares rose 8%.
However, shares in Hong Kong Exchanges and Clearing (HKEx) dropped 4.9% - its biggest fall since May 2009 - on fears the mergers elsewhere would increase competition.
"Due to changes in the financial market landscape, HKEx will consider international opportunities for alliances, partnerships and other relationships that present strategically compelling benefits consistent with its focus on markets in China," the exchange said in a statement.
HKEx has so far not seen the need to merge because of its strong pipeline of initial public offerings (IPOs) from China, while other Asian exchanges have been reluctant to seek tie-ups due to tight ownership and political obstacles.
But analysts say that the situation is now changing.
"The competitive threat from alternative trading pools makes strategic sense for traditional exchanges to combine resources so they can compete better," said ABN Amro's Neo Chiu Yen.
This week's takeover talks come as the Singapore stock exchange (SGX) is still seeking clearance for its takeover of the Australian Stock Exchange (ASX).
SGX made its bid in October but has faced political and regulatory hurdles in Australia.
The BBC's business editor Robert Peston said that 30 years ago, national stock exchanges like the LSE were protected monopolies regarded as vital to the functioning of national economies.
But the LSE is not the only operation providing these essential financial services in the UK any longer, because of globalisation, deregulation and technological change, he said.
New trading venues have eaten into the market shares of traditional exchanges, and those such as the LSE have had to invest heavily in new trading technology and look to higher-margin areas to grow.
One such area is trading in derivatives - contracts whose value is linked to expected future price movements of an underlying asset.
Traders can bet on the future prices of things such as currencies and commodities - including oil, food and metals - as well as stocks.
Increased regulation has reduced margins for stocks at NYSE Euronext to 35%, compared with 55% for derivatives, according to Bloomberg.
And exchanges have cottoned on to this as can be seen by trading volumes. In 2010, equity-trading sales at NYSE Euronext fell 10%, while the options and futures unit gained 14%, Bloomberg said.
Deutsche Boerse and NYSE Euronext have been keen to stress that their proposed merger would create a group that is a world leader in derivatives.
Consolidation among exchanges may raise concern amongst its customers - both companies listing shares and those who wish to trade - about new global monopolies being created and prices being driven up.
But Robert Peston says that while this may be a concern in the short term, any attempt by the newly merged operators to extract too much profit would probably lead to new trading networks springing up.
Related Internet Links
The BBC is not responsible for the content of external sites.