Fixed rate mortgages 'becoming more expensive'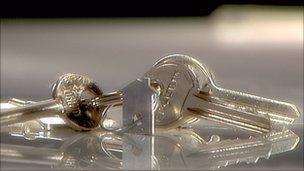 Fixed rate mortgages have become more expensive in recent months as the markets "overreact" to potential interest rate rises, brokers say.
The cost of borrowing for mortgage lenders - known as the swap rate - has risen, which has pushed up fixed-rate deal costs in recent months.
This swap rate has risen because of an expectation of UK interest rate rises later in the year.
The Bank of England has again frozen the Bank rate at 0.5%.
The rate has remained at this level since March 2009.
There are two key factors to the prices of home loans, according to Ray Boulger, of mortgage broker John Charcol.
The Bank rate - currently at a record low of 0.5% - dictates short-term costs of rates.
However, the swap rate is more significant for longer term fixed-rate mortgages as it is based on where interest rates are expected to move in the future, Mr Boulger says.
There is widespread expectation of a Bank rate rise later in the year, and this is pushing up the cost of fixed-rate deals.
"Fixed rates will get more expensive in the short term," said Mr Boulger.
But he added that this rise in home loan costs might not last if it turns out that the markets have overstepped any forthcoming changes.
"If the Bank rate fever dies down a bit, the costs [of fixed-rate deals] could come down later in the year," he said.
Melanie Bien, of mortgage broker Private Finance, said that the markets had been "overreacting" to potential rate rises and this had been reflected in the growing costs of fixed-rate mortgages.
The movements of the swap rate were difficult for borrowers to understand when the Bank rate remained steady, she said.
But she stressed that there were still very competitive deals available, with some five-year fixed-rate deals starting at 4%.
The number of changes made by lenders to their mortgage rates has accelerated in recent days.
"Banks now state on their websites that their mortgages can be withdrawn without notice and this will catch borrowers out," said Aaron Strutt, of broker Trinity Financial Group.
He said recent changes included:
Santander pulling its two-year fixed rate deal at 3.09% and ING Direct pulling its five-year fixed-rate deal at 4.49%
NatWest increasing fixed rates by up to 0.4%. Its best five-year fixed-rate at 50% loan-to-value is now 4.35%, compared with 3.75% approximately four weeks ago
Britannia pulling its 10-year fixed-rate deals at 5.09% and 5.29%
The Coventry Building Society increasing some of its two-year trackers by 0.38%
Woolwich increasing its fixed and tracker rates by up to 0.31%
Manchester Building Society increasing rates by up to 0.31%.
Brokers said that many fixed-rate deals still required a large deposit, or were only available to people with significant equity in their homes.
Those who could offer a deposit of only 10% of a home's value needed to have "no blips" on their credit history to be given a mortgage at the best rates, Ms Bien said.
A rising swap rate could mean better news for savers. Lenders, seeing their cost of borrowing rise, might want to attract savers' cash and so could start to offer better rates on savings accounts.
However, the continued record low Bank rate and rising inflation could dampen this benefit for savers.
Related Internet Links
The BBC is not responsible for the content of external sites.