Syrian flag carrier struggles to keep flying
By Edwin Lane
Damascus, Syria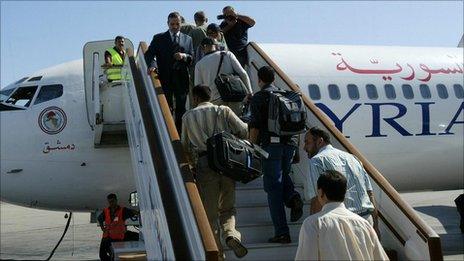 Syria's national flag carrier, Syrianair, is running out of planes.
On the parched grass beside the runway of Damascus Airport stands most of its fleet - about half a dozen old Boeing 727s and two giant 747s dating from the 1970s.
All are out of service thanks to seven years of US sanctions, which prevent Syria from importing planes or their spare parts.
Today, Syrianair has just six Airbus A320s still capable of flying, a tiny number compared with neighbouring Royal Jordanian Airlines, for example, with its fleet of more than 30 planes.
Senior sources at the airline admit that the situation is "critical".
The company needs to buy new planes fast or could soon find itself running an airline without any airliners.
"This is an airline that is just aiming for survival right now," says Abdulkader Husrieh, a prominent Syrian financial consultant.
US sanctions on Syria, first put in place by the Bush administration in 2004, are having a particularly severe effect on the airline industry.
Imposed in response to Syria's support of the militant Hezbollah group in Lebanon and Islamist Hamas in Gaza, they ban the export of most US goods to the country.
That stops both the US giant Boeing and Europe's Airbus from exporting planes to Syria - two companies that between them dominate the global airliner market.
Smaller manufacturers such as Canada's Bombardier and Brazil's Embraer are also covered by the sanction rules because they use at least 10% of US-made components.
"Airlines are particularly vulnerable to US sanctions because it is one of the few things that America has a quasi-monopoly on," says Joshua Landis, a Syria-watcher and director of the Center for Middle East Studies at the University of Oklahoma.
The impact on the airline's passenger numbers is clear.
"Frankly, they are plummeting," says airline consultant Gordon Bevan from ASM Global.
Syrianair carried nearly 1.3m passengers in 2007, according to government figures.
By 2009, that figure had dropped to fewer than 740,000 passengers.
A change in US president, and Barack Obama's new policy of engagement with Syria and its authoritarian regime headed by President Bashar al-Assad, has improved the situation somewhat.
At the beginning of last year, Syrianair had just three Airbuses, until the US embassy in Damascus took pity and gave permission for some spare parts to be delivered, allowing the other three to be repaired and get back in the air.
Similar exceptions have now been made for the overhaul of the two ageing 747s, though those repairs have yet to begin.
While one-off concessions may keep Syrianair airborne for a few more years, expansion is out of the question.
No exceptions have been made to purchase new planes from either Airbus or Boeing, despite attempts by Syrianair to secure a deal with Airbus for the delivery of more than 50 new planes - the fleet size it says it needs to compete - over the next 20 years.
That is particularly galling for the airline given that its home market is growing rapidly, allowing the rapid expansion of its Middle East rivals.
The number of tourists coming to Syria is rising fast.
Some 8.5 million people visited the country last year, up 40% on 2009, according to the government.
There are plans to boost that number to 14 million by in the next five years.
To cater for the boom, flights into Syria's airports are up, with 20 airlines now operating regular services.
Currently, it is neighbouring flag carrier Turkish Airlines that is benefiting at Syrainair's expense, along with several low-cost carriers and the three Gulf giants - Emirates, Etihad and Qatar Airways - now spearheading a boom in Middle East air travel.
"The Middle East is probably the most dynamic growth market in the world at the moment," observes Keith McMullen, the managing director of Aviation Economics, a global aviation consultancy.
"Traditional flag-carriers like Syrianair have been simply left behind."
In an increasingly desperate search for new aircraft, the airline has been forced to look east to its old Cold War patron Russia, and its state-run plane-maker Tupolev.
Tupolev's planes are less efficient, noisier and difficult to maintain - even the Russian state airline Aeroflot has now ditched its Tupolev fleet in favour of Boeings and Airbuses.
But Syrianair has little choice.
Tupolev uses less than 10% US parts, so the airline plans to receive two by the end of the year.
Until US sanctions are lifted, there is little prospect of a more long-term and sustainable solution to give Syrianair the planes it needs to expand.
And despite the thawing of relations between Washington and Damascus, the chances that sanctions will be lifted anytime soon look equally bleak.
"Sanctions will be imposed for decades to come," says Professor Landis.
Syria would have to renounce its support for Hezbollah and Hamas for the US congress to consider easing sanctions, he says, measures Syria can never take for political reasons.
But even if sanctions are eventually lifted, that will not mark the end of Syrainair's problems, analysts say.
The airline has suffered from decades of inefficient management under government ownership, says financier Mr Husrieh, and is in urgent need of restructuring.
Since coming to power more than a decade ago, President Assad has promised far-reaching economic reform, including a concerted effort to boost the private sector.
But the public sector still dominates the economy, and old habits die hard.
"Like all public sector companies in Syria, lots of the business decisions [at Syrianair] are made for political reasons, rather than commercial," Mr Husrieh explains.
But that may also be the airlines's saviour. The government will never allow Syrianair to shut up shop, planes or no planes.
"The government will never liquidate it," he says.
Related Internet Links
The BBC is not responsible for the content of external sites.