Rising costs hit Gazprom's quarterly profits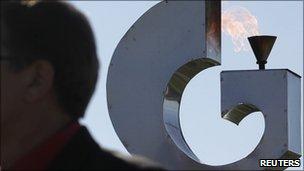 Russian gas monopoly Gazprom has reported a 9% drop in quarterly profits due to rising costs.
Its net profit was 160.5bn roubles ($5.5bn, £3.4bn) in the July-September period of 2010, down from 173.5bn roubles a year earlier.
The cost of purchasing oil and gas jumped 29%, and operational costs increased by 12%, Gazprom said.
Gas sales to European countries fell to 291bn roubles from 312bn roubles in the same period of 2009.
Gazprom supplies about a quarter of Europe's gas needs, but European nations have been keen to diversify their energy supplies.
Earlier this week, Russian Prime Minister Vladimir Putin urged Gazprom to increase its efficiency.
"You either work in an efficient manner or we will be forced to change the existing rules and move in favour of a change in the legislation [guaranteeing Gazprom's monopoly status]," Mr Putin said on Wednesday.
The prime minister also told Gazprom to work towards providing better access to domestic pipelines for Russian independent producers and increase investment in pipeline development.
"There is a deficit of [gas] capacities," said Mr Putin.
Related Internet Links
The BBC is not responsible for the content of external sites.