Buy-to-let lending picked up in 2010, lenders says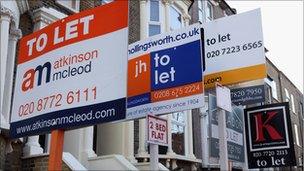 Mortgage lenders have become more relaxed about granting loans to landlords, according to figures from the Council of Mortgage Lenders (CML).
In 2010, buy-to-let (BTL) lending rebounded, with lenders granting 102,400 new BTL loans, 10% more than in the year before.
In 2009 the number of new BTL mortgages had fallen by nearly 60% from 2008.
Mortgages for landlords - 1.3 million in total - rose in 2010 from 11.8% to 12.3% of all outstanding home loans.
"Demand seems to be resilient and loan performance has improved," the CML said.
"Looking ahead, loan performance could potentially be adversely affected by rising rent arrears or interest rate rises, but at present there is no indication of these pressures materialising in practice."
Related Internet Links
The BBC is not responsible for the content of external sites.