South Korea holds interest rates despite pricing fears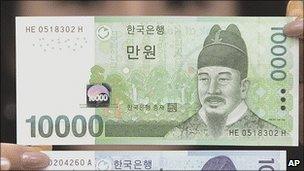 South Korea's central bank has left its main interest rate unchanged at 2.75%, bucking a trend that has seen borrowing costs rise across Asia as policymakers try to slow inflation.
Analysts said the bank wanted to see the impact of a surprise rate increase last month before moving again.
They now expect borrowing costs to rise in March.
Inflation has been identified as one of the main threats to economic stability in Asia.
In the last month central banks have lifted rates in China, Indonesia and India.
And while South Korea's government has made fighting price growth a top priority, analysts said the central bank also needed to take into consideration the effect of higher rates on the economy.
"It is too soon to raise rates again because the effect of last month's rise is not clear yet," said Kim Il-Goo, an analyst at Daewoo Securities.
"The central bank raised interest rates 14 times over the past 12 years, but it raised rates consecutively only once."
South Korea's inflation rate is hovering close to 4%, at the top end of the Bank of Korea's 2% to 4% target range.
However, analysts said that interest rates may have little impact on price growth as many of the inflationary pressures were imported in the form of raw material or commodity costs.
"The central bank seems to view current inflation as mostly cost-push driven on the supply side, not demand-led," said Sun Yoo, an analyst at Woori Investment & Securities.
"While the government is preparing micro measures against inflation, (the central bank) probably thought a rate rise would burden consumers more, along with heavy mortgage loans."
Mr Sun said he expected rates to climb to 3.75% by the end of the year. Other analysts said they saw rates hitting 3.5%.
Related Internet Links
The BBC is not responsible for the content of external sites.