Kraft Foods' profits hit by Cadbury costs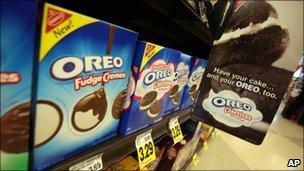 Kraft Foods, the owner of Cadbury, has reported a fall in quarterly profits.
Despite the Cadbury takeover helping to boost sales by 30%, Kraft's net profit for the fourth quarter fell 24% to $540m (£335m) due to costs associated with integrating the UK business.
Kraft also warned that it would be increasing prices to offset rising commodity costs.
The firm's expectation of "significant input cost inflation" comes a day after a similar warning from PepsiCo.
Kraft, whose brands include Oreo cookies and Maxwell House coffee, has had to contend with the higher cost of ingredients such as corn, sugar and cocoa.
The company has already raised prices on most of its products in Europe and on more than half of those in North America. It plans more increases this year.
"There's no question that in the developed markets, both in North America as well as Europe, that consumer confidence remains weak," Kraft chief executive Irene Rosenfeld said.
"We expect it will remain weak for the foreseeable future."
Kraft completed its £11.5bn takeover of Cadbury at the beginning of 2010.
Taking into account integration costs, the acquisition knocked about 33% off Kraft's earnings per share.
Although the addition of Cadbury increased Kraft's total sales, it was a mixed quarter for the UK chocolate maker itself.
Cadbury sales in Europe were flat, with solid growth in the UK offset by weaker sales of sweets and chewing gum in southern Europe.
And sales in North America fell 6.1% due to lower sales of Trident and Stride gum, and compared with strong sales of Halls cough drops a year earlier.
Related Internet Links
The BBC is not responsible for the content of external sites.