Small firms helped to bid for procurement 'billions'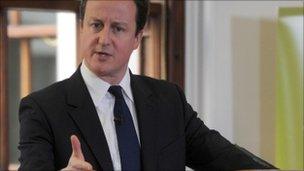 David Cameron has announced a series of measures to help small and medium-sized firms compete for billions of pounds worth of central government contracts.
He said the aim was to give businesses greater access to the bidding process by eliminating "excessive bureaucracy and petty regulation".
Firms should no longer have to input their information each time they apply for a new contract, for example.
The CBI, however, said the government could have gone much further.
"This is a welcome package of measures," said Susan Anderson, the business body's director for public services, "but it could be much more radical by opening up all government contracts and public services to a range of innovative and expert providers."
The measures also include a new Contracts Finder website, which will feature all public sector contracts worth more than £10,000, to try to give business an an easier way to locate them.
Pre-qualification questions for central government contracts under £100,000 will also be eliminated, the Cabinet Office said.
Launching the initiative, the Minister for the Cabinet Office, Francis Maude, said they would end the "procurement oligopoly" where small businesses were effectively shut out from the bidding process for Westminster contracts by red tape and over-regulation.
It is hoped the measures will also help charities and voluntary organisations bid for work.
David Cameron told representatives from small and medium-sized firms that the measures should also help the UK economy.
"We need to make the system more open, competitive and transparent. It's important for getting to grips with our deficit," the prime minister said.
The TUC, however, sounded a note of caution on this point: "Simply offering public sector services to any private sector firm willing to provide them at the lowest cost will open up the NHS and other valued public services to cowboy operators, and mean lower wages and worse conditions for thousands of low paid workers."
The Scottish government launched its Public Contracts Scotland procurement website two years ago.
It said that it had been a success and revealed that it had so far registered 50,000 members.
"It is enabling the delivery of improved public services at a reduced cost, and having a direct positive impact on the Scottish economy," said Finance Secretary John Swinney.
"It has introduced a level of transparency and functionality that is unparalleled across Europe."
The UK government's new approach received a positive response from bodies representing smaller businesses.
"If our businesses are to generate the jobs and growth necessary to sustain a recovery, then it is only right the government should be looking to award contracts to smaller firms," said Dr Adam Marshall, director of policy at the British Chambers of Commerce.
The Institute of Directors said the changes were "long overdue", but questioned whether the culture in Whitehall would change sufficiently.
"It remains to be seen whether today's changes will benefit small businesses or whether risk-averse bureaucrats will soldier on with safe choices of big brands," said the Institute's Alexander Ehmann.
The Federation of Small Businesses recently called on the Ministry of Defence to overhaul how it managed its procurement process after releasing a report which suggested small businesses were at a "significant disadvantage" when bidding for defence contracts.
It said that 90% of defence exports were won by the 20 largest UK companies.
Related Internet Links
The BBC is not responsible for the content of external sites.