Post Office staff in strike vote over pay freeze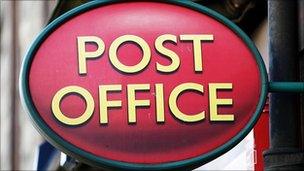 About 4,000 Post Office counter staff are to be balloted for strikes in a row over pay, the Communication Workers Union (CWU) has said.
Workers at so-called Crown offices - the larger offices usually based on High Streets - will vote on the action.
The union accused the Post Office of not considering a pay rise or guaranteeing no more branch closures.
But the firm said it was disappointed at the plans, adding the Crown offices were losing £55m a year.
"We regret the fact that the CWU is unwilling to engage in a constructive dialogue about tackling this unsustainable financial position," it added.
"We know having no pay increase is a very difficult message for our staff. The unfortunate reality, however, is that the Crown Post Office network is loss-making. Right across the country, difficult choices are being made by many public and private sector organisations and we are no different.
"Any form of industrial action will only harm our customers and do nothing to resolve the urgent need to reverse the losses in the Crown network."
The CWU's deputy general secretary Dave Ward accused the Post Office of having a "disastrous approach" to change.
"The company has no vision, and worse still, appears to have no desire to give staff a fair and just pay settlement or to work towards a sustainable post office network," he said.
"The refusal to guarantee the Crown network is more evidence of a damaging race to the bottom which we have no desire to engage with."
Voting among staff at the 373 branches will begin on February 18 and threatens disruption in the run up to Easter, the union added.
Related Internet Links
The BBC is not responsible for the content of external sites.