Reprieve granted to debt advisers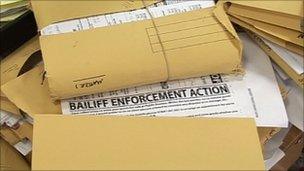 Hundreds of specialist debt advisers facing redundancy have won a reprieve after the government found £27m to continue the service for a year.
For the past five years, the £27m-a-year Financial Inclusion Fund has been paying for about 500 specialists in England and Wales to give free advice.
Last month, the government said it would axe the fund, and advisers were given redundancy notices.
Labour described the announcement of temporary funding as a u-turn.
Funding for the advisers, who help 100,000 people with complex cases every year, was expected to run out in March.
The decision not to renew the fund led campaigners to express fears that there was a danger that a serious gap could appear in the provision of help to sick or vulnerable people who became trapped in serious debt.
Although there is still free advice available from several bodies, including Citizens Advice, these specialist advisers are trained to deal with complex cases and to represent clients to their lenders.
The debt advisers, who work out of Citizens Advice offices and community halls around England and Wales, had already been sent redundancy letters and been told to stop taking on any new clients, other than those with the simplest problems.
Now, the Department for Business has said it has found the money from a contingency fund to keep the advice going for another year.
"I am very happy to be able to confirm the continuation of this important service," said Financial Secretary to the Treasury, Mark Hoban.
"Effective debt advice can be the first step towards regaining control of your finances. It can also help people to make the most of their money in the future and avoid unsustainable debts.
"The government intends to put the provision of debt advice onto a more sustainable footing. We want to see a flexible and cost effective response to debt problems, so that people can be helped in a way that works for them."
Business Secretary Vince Cable said that, after the next year, the government would be looking elsewhere for help in funding advice services, such as the debt advisers.
"While the government has maintained funding for this programme, it provides only a small part of the revenue necessary to keep Citizens Advice afloat," he said.
"I would like to take this opportunity to call on the other funding streams, such as from local authorities, to help provide whatever support they can to keep this excellent service going."
Shadow treasury minister Chris Leslie said it was "a welcome u-turn" after concerns had been raised in parliament.
"Hundreds of thousands of people in real hardship have relied on debt advice and help from charities and voluntary bodies made possible by the last Labour government's Financial Inclusion Fund.
"Ending the fund would have been a false economy, neglecting the long term savings to the courts and other services that come from getting indebted families back onto a sustainable financial pathway.
"The Tory-led government must now come up with a plan to fund good quality debt advice for the long-term, not just for one year."
The debt advice manager at one Citizens Advice Bureau in Stoke-on-Trent said that although the funding announcement came as a "huge relief", concerns remained.
"This is only a stop gap. What happens this time next year?" Jay Lowe told BBC Radio 4's Money Box.
She said the short notice given meant that she was still left with staffing problems, and redundancy costs to meet.
"We have already lost two people who have taken other jobs because of the pending cuts.
"And then of course it means recruiting or training up people to replace very experienced case workers," she said.
Delroy Corinaldi, of the Consumer Credit Counselling Service (CCCS), welcomed the reprieve amid "current uncertainties over the availability of face-to-face debt advice".
"We are concerned that any reduction in the amount should not impact on peoples' ability to get free face-to-face debt advice," he added.
"This should put free advice in a place where it can continue to take on the fee-charging sector which the recent Office of Fair Trading review found to be unfit for purpose.
"The challenge now is for debt charities to work together to provide free debt advice, face to face, over the phone and online, for those who need it.
"The next few years are likely to be very difficult for many people due to stagnating household budgets and rising costs but given CCCS's capacity on its helpline and online debt counselling, there is no need for anyone to pay for debt advice."
Related Internet Links
The BBC is not responsible for the content of external sites.