Birmingham Mint starts pressing royal wedding coins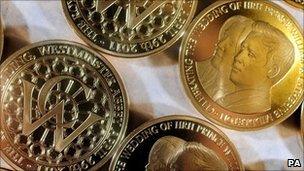 A coin to commemorate the royal wedding is being pressed in Birmingham.
Around 50,000 are being produced at the Birmingham Mint in honour of the marriage of Prince William and Kate Middleton on 29 April.
They will hold no monetary value but the Mint is hoping that the coins, which cost £5, will be sold out by the time of the wedding.
One side has a picture of the couple and the other shows the date of their marriage and the initials C and W.
The Mint, which was established in 1794, will make the medals available to schools and charities for £3.
Phil Majevadia, product manager, said: "With the country in the doldrums and a harsh economic climate, the royal wedding will lift everyone.
"We just wanted to add to the [feelgood] factor around the wedding and help to give everyone a lift."
The couple will marry at Westminster Abbey. Buckingham Palace has refused to comment on rumours about their honeymoon destination after speculation they would visit the Isles of Scilly.
Related Internet Links
The BBC is not responsible for the content of external sites.