Bank bonuses 'offensive' says Vince Cable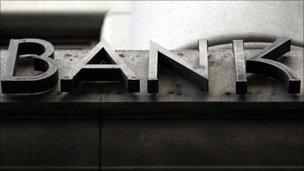 "Enormous" bank bonuses expected to be announced in the next few weeks are "offensive", Business Secretary Vince Cable has said.
He told the BBC that most people would find the bumper payouts, tipped to surpass £6bn, difficult to understand.
But Labour accused Mr Cable of "talking tough but acting weak".
On Tuesday, Barclays will be the first UK bank to reveal its 2010 bonus pool, alongside its results.
Reports suggest it will hand an even bigger share of revenues to its investment bankers.
Although individual bonuses at Barclays Capital may have been cut by as much as 10%, newspaper reports said the overall remuneration - including pay and incentives - will be about 40% of BarCap revenues.
The bank is expected to state that it has cut bonuses for British bankers, in line with the Project Merlin agreement revealed last week.
Under this RBS, HSBC, Lloyds and Barclays agreed to cut the amount provided for bonuses in 2010. However salaries are not controlled by the deal.
Last week RBS said its investment bankers would share in a bonus pool of about £950m - down from 2009 - while chief executive Stephen Hester would get £2m in shares as a bonus.
And Lloyds Banking Group's outgoing chief executive Eric Daniels is in line for a £1.45m shares bonus.
Mr Cable told the Andrew Marr Show he was unhappy at the expected scale of bonuses, despite the government's calls for restraint.
"These are extraordinarily large bonuses which most people cannot understand," he said.
"The banks are ultimately underwritten by the state, they effectively have a state guarantee. That's what makes the enormous payments so offensive."
The comments were echoed by the Archbishop of York, Dr John Sentamu, who described the payments as "obscene" and said the government must show a "bit more guts" in dealing with the banks.
"For heaven's sake the government ought to do something more tougher about it," he said.
"Somebody has got to have a little bit of conviction that these banks can't simply luxuriate themselves on the backs of the poor and other people while the rest of us are having a tough time."
Project Merlin also saw large banks agree to increase business lending - especially to small firms - though there are concerns over whether companies will be able to afford to access funds.
And RBS, HSBC, Lloyds and Barclays agreed to publish the pay of their five highest paid executives below board level - but this will exclude top-earning traders without managerial responsibility.
Mr Cable said that Merlin had been "helpful" but warned the government had not completed its reform of the banks, adding there needed to be "fundamental surgery".
"There needs to be fundamental reform. There will have to be change and it will have to be radical," he said.
"What we should notice at the end of it is the banks are more competitive and that they are safer and that they are not making large excess profits which then fuel the bonus culture. Those are the big changes that have got to happen."
Labour's shadow chief secretary to the Treasury, Angela Eagle, said that the government should be applying a direct tax on bank bonuses - as the previous government had done last year.
"We would use the money raised to support the jobs and growth Britain badly needs this year," she added.