Kate Middleton dress firm Issa London sees sales soar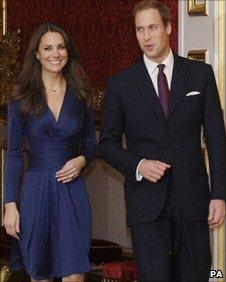 The firm which designed the dress worn by Kate Middleton for the announcement of her engagement to Prince William has reported a surge in demand.
Issa London said pre-collection sales for its 2011 autumn/winter range were up by 45% on the previous year.
Designer Daniella Helayel admitted the £385 blue gown chosen by Ms Middleton had boosted the firm's profile.
But she has refused to comment on whether she would be designing the future princess's wedding dress.
"We have had a lot more interest and I have no complaints at all," she told The Observer - ahead of the Issa Show at London Fashion Week, which begins on Friday.
"I'm sure a lot more people have their eyes on Issa but I just do what I need to do. The pressure is the same as usual."
Other celebrities to have worn Issa clothes include actresses Scarlett Johansson and Hilary Swank.
Ms Helayel has also designed clothes for Madonna's forthcoming film WE, which is about the American socialite Wallis Simpson who married Prince Edward, formerly King Edward VIII.
Association with the Royal wedding looks set to provide a fillip to a range of organisations.
Last week the website promoting tourism for the Isles of Scilly had thousands of extra hits amid speculation Prince William and Kate Middleton could honeymoon there.
Visits to the official tourism website spiked heavily, with people trying to find out more about the islands.
Related Internet Links
The BBC is not responsible for the content of external sites.